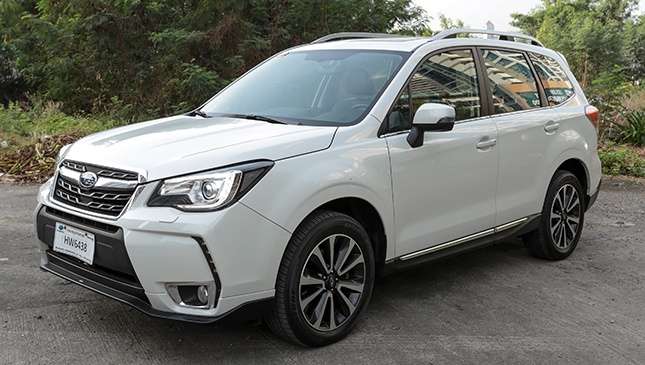 The Forester XT has a special place in our hearts, along with other Subaru models like the Levorg, WRX, XV and BRZ. That's basically our dream garage right there.
But the turbocharged Forester has a special, special place because it's an SUV that wants to be a rally car. In fact, it believes in itself so much that it almost convinced us it was a sports sedan when we were clipping apexes with it at the 'Tanayburgring.'
ADVERTISEMENT - CONTINUE READING BELOW ↓
Sadly, by next year the new Forester will no longer have a turbo option, just like its XV sibling. At an intimate media thanksgiving lunch hosted by Motor Image CEO Glenn Tan, we learned the new generation will be underpinned by the new global platform currently shared by the Impreza and the XV. If the former and the latter are anything to go by, the Forester is in good hands platform-wise.
We learned that a bigger engine to offset the loss of the turbo might come with Forester 5.0, but nothing has been confirmed yet. This is unusual in the sense that other car companies are going for smaller displacement engines with turbochargers. We'll just have to see what powerplants the new Forester has when it's unveiled in the third quarter (that's the projection anyway) of 2018.
We will also finally be getting Subaru's EyeSight technology next year, a suite that includes adaptive cruise control, lane keep assist, pre-collision braking, and pre-collision throttle management. The first three are rather self-explanatory, but what the last one does is reduce engine power if a collision is imminent.
ADVERTISEMENT - CONTINUE READING BELOW ↓
Recommended Videos
The Japanese carmaker calls EyeSight the "culmination of everything Subaru engineers know about safety." Of course, it remains to be seen if EyeSight can adapt to swerving jeepneys and unpredictable taxi drivers. It's safe to say the Philippines will be the ultimate field test for Subaru's safety tech.
EyeSight will come with the new Outback and Legacy that will be introduced next month. We'll be in Singapore to witness the launch, so stay tuned for that.
And last but not the least, the Levorg will be getting the bigger 2.0-liter turbocharged mill next year. Now we've gotten a bit fond of the 1.6-liter turbo, so we hope Motor Image PH retains that (More isn't always better, guys). But of course we're excited to see what more power in a Levorg is like.
On top of the all-new XV exceeding Subaru's sales expectations—twice as much, in fact—in our market, it looks like Motor Image's momentum shows no sign of slowing down next year.
ADVERTISEMENT - CONTINUE READING BELOW ↓