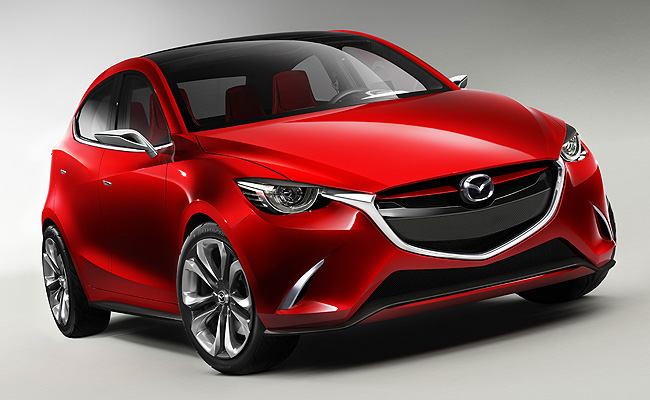 It looks like the Mazda 2 will be the next car to receive the Japanese carmaker's 'Soul of Motion' (Kodo) design language by unveiling a concept car that, Mazda admits, foreshadows its next-generation subcompact.
The Mazda Hazumi concept car reportedly takes its name from the Japanese word that means to "bound" or "spring up."
"Whereas with longer models, we use long and free lines of motion stretching from front to back to express Kodo. With the Hazumi, we've created a form that suggests explosive motion," said the car's chief designer, Ryo Yanagisawa. "It's like an animal poised to pounce. Every muscle is held tense as it gathers energy for the chase. Despite being small, Kodo gives the car a presence that can't be ignored, and a shape that has driving pleasure written all over it."
The Hazumi's cabin is placed as far back as possible to place its center of gravity near the rear wheels. This, in effect, gives the car a wedge-shaped body, starting from the low and pronounced snout and rising toward the rear, giving the Hazumi a sense of forward motion.
Joining the Hazumi in its debut is the world premiere of its 1.5-liter Skyactiv-D clean diesel mill that "offers ample torque and dynamic performance that is linear right up to the redline." Although Mazda failed to disclose the engine's output, it did share that the Hazumi comes with a six-speed Skyactiv-Drive automatic transmission, the i-Stop start/stop system, and the i-Eloop brake energy regeneration system.
Continue reading below ↓
Recommended Videos
So, what do you think of the next-generation Mazda 2?