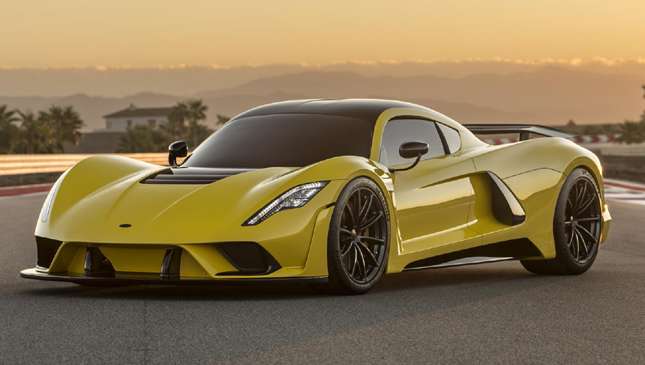 The battle for the 300mph (483kph) road-car prize just got real. Ladies and gentlemen, John Hennessey is—once again—going into bat against Bugatti for the title of the world's fastest car with this: the 1,600hp Venom F5.
Not that John's ever lost the title of the world's fastest car, that is. The Not-Guinness-Certified-But-Still-Chuffing-Quick 435kph Hennessey Venom GT is still, technically, the fastest car in the world. Just in one direction.
Bugatti of course, has built a faster car called the Chiron. And is planning a top speed run in 2018. So, not wanting to be trumped, Hennessey is rearming with the F5 to futureproof his pride—a car he's spent some four years perfecting.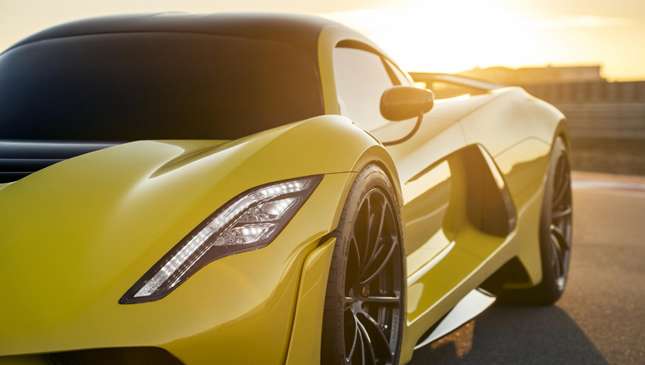 Continue reading below ↓
Recommended Videos
Named after a particularly destructive breed of tornado, it's the latest road-legal land rocket to conform to Hennessey's Minimal Maximus' philosophy, just with more aero, more tech and, of course, even more power.
Compared to its predecessor, the F5 has made huge advances in aerodynamics. Thanks to being a clean-sheet design—it's a bespoke, built-from-the-ground-up, carbon-bodied hypercar with a carbon tub—the F5 has a much sleeker front, sculpted and functional rear (to dissipate a lot of heat), trick rear diffuser and completely flat floor that makes it a lot slipperier and pointier.
In fact, everything on the F5 has been vacuum-packed into a silhouette with a drag coefficient of 0.33Cd. The Venom GT had a drag factor of 0.44Cd—meaning it'd need 2,500hp to hit 300mph. The F5 needs less. But still a lot. 1,600hp, just so you're clear.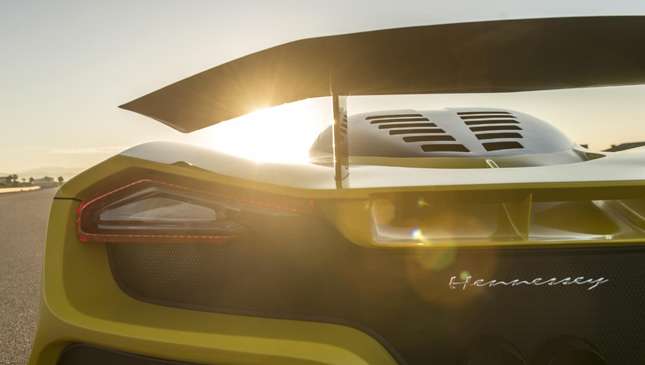 It all comes from a bespoke 7.4-liter aluminum V8 with two hefty turbos grafted on. Chiron-esque sequential quad-turbos were discussed, but binned for being too heavy. Same story for hybrid powertrains.
"I'm a purist," Hennessey tells us. "I like simple, elegant functionality, and that's not a knock against hybrids, but they're for the big OEMs to do."
That monstrous engine sends all its power and 1,763Nm of torque to two very fat, very sticky rear wheels via a seven-speed single-clutch paddle-shift gearbox. If you want a real rodeo, you can spec a manual gearbox, but we're told that you'll be fighting with trick GPS-based traction control so it might be best to have both hands on the steering wheel.
Incorporating active aerodynamics, in Vmax mode the F5 drops its rear wing and deploys some flaps to plug ducts above the jutting chin spoiler to improve its aero. And the numbers predicted when in maximum attack are monstrous; 0–299kph in under 10 seconds (that's quicker than Lewis Hamilton's F1 car), 0–400kph in under 20 seconds and a top speed of 484kph. Against the competition? Well, It takes the Chiron 32.6 seconds to hit 400kph.
But even with chunky Brembo carbon-ceramic brakes, and a significant weight advantage (1,360kg), Hennessey isn't concerned with getting involved with this new 0–400kph–0 battle. "I think that's a number that the guys from Bugatti and Koenigsegg came up with because they couldn't beat our top speed number." Meow.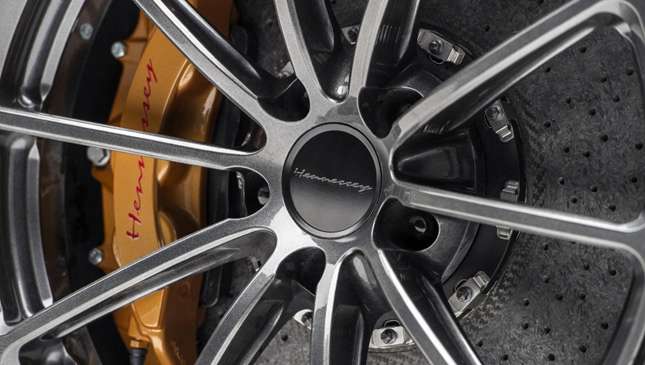 Now, let's talk tires. They're the limiting factor when running at high-speed because the stress loads they're subjected to is immense. The Veyron had famously expensive Michelin PAX run-flats to go silly fast, but the Chiron has reverted to cheaper, but specially developed Pilot Cup 2 tires. Hennessey will also use these Michelins but believes, because the F5 is a lot lighter than Chiron, they're good for above and beyond. Possibly 300mph.
Currently, there's a debate as to how exactly you'll get in the F5 (via either gullwing, or dihedral doors), but once you are in the cabin, you're greeted by a much more luxurious environment than the old GT. Using plenty of leather, carbon fiber, Alcantara and an Apple iPad interface, it's positively plush. And roomy.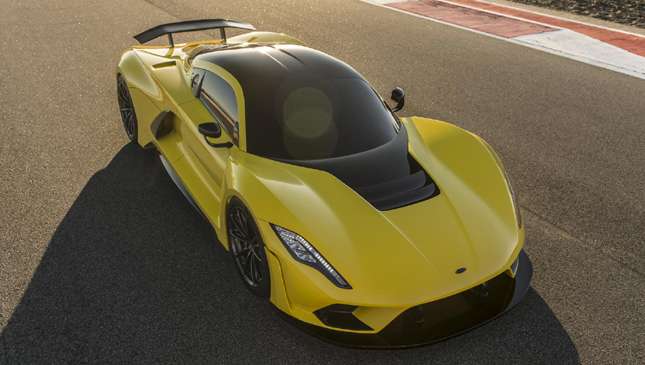 But where Chirons are constructed in the "Atelier," an automotive art gallery-cum-workshop in Molsheim, France, John's workshop in Sealy, Texas is where all 24 cars will be produced for a starting price of $1.6 million (P82 million). However, it won't be first come, first served. Instead, you'll have to apply to be an owner of a car, then John will handpick you as worthy of his creation, and you'll work your way to boot camp where you can option your car with tons of additional goodies. It'll then be built sometime in the next three years but first deliveries will start at the beginning of 2019.
You can see the F5 with your own eyes at the SEMA show currently going on in Las Vegas, but two prototypes will begin pounding up and down Texas next year. When a ballsy individual is set to strap themselves into the F5 to attempt the triple ton is still unknown. But, for now, it's theoretically possible, and John has an extremely annoying habit of hitting the numbers. Let the high-speed games begin…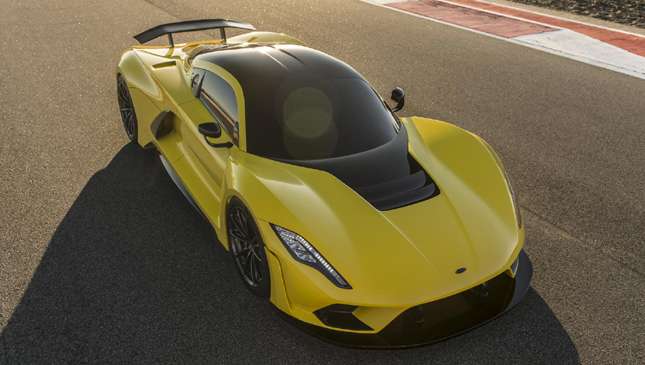 NOTE: This article first appeared on TopGear.com. Minor edits have been made.