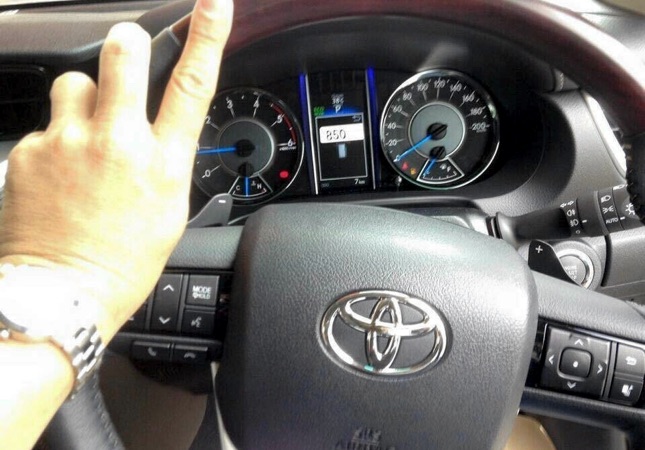 It's official: The all-new Toyota Fortuner is the latest Internet sensation. When we posted the first-ever clear photos of the midsize SUV last Friday night, our website traffic nearly threatened to shut down our servers. We've never seen public interest in an upcoming vehicle model this intense since the Japanese carmaker's own sports car, the 86.
So here's more treat for those who eagerly await the 2016 Fortuner's arrival: interior shots. A reader tipped us off about these images posted on what looks like an enthusiast website in Thailand. Hence, the right-hand-drive unit.
The Fortuner here is most likely a top-of-the-line variant, judging by the leather seats and the top-notch trim. We particularly like the brushed-aluminum accents on the steering wheel, the inside door panels and the center console. Clearly, this is a tasteful-looking cabin that won't look out of place in a European premium SUV. There's also a touchscreen media player, and there's power operation for the driver seat. And check out the dynamic layout of the instrument cluster!
So, which do you like better about the new-generation Fortuner: the exterior or the interior?
Photos from New Fortuner Club Thailand