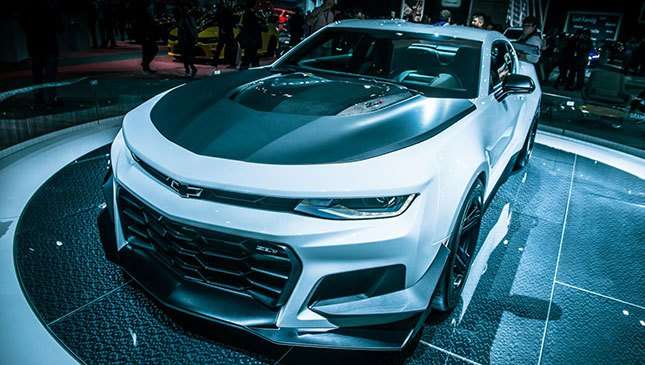 Chevrolet Camaro ZL1 1LE
Lock up your loved ones and allow us to introduce to you the new Chevrolet Camaro ZL1 1LE.
Put simply, it's a Camaro ZL1 that's had even more anger injected into it, making the quick version of the humble American muscle car quicker still around a track.
How much quicker? Well, compared to the standard ZL1, the 1LE is three seconds faster around General Motors' 18-turn Milford Road Course test track. So expect a reasonable chunk to be taken out the ZL1's 7:29.60 Nürburgring time, too.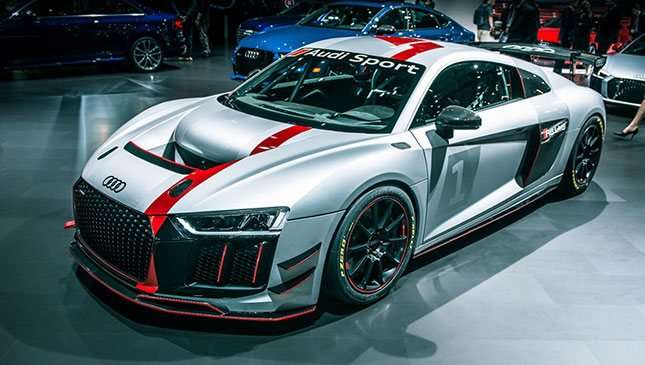 Audi R8 GT4
If you're an industrious entrepreneur who has always wanted to go racing but have been too busy making money, this could tempt you onto the track. It's the lightweight, 500hp Audi R8 GT4 and the perfect 'My First Race Car'.
Continue reading below ↓
Recommended Videos
It's a non-road-legal, off-the-shelf race car and eligible for series like the British GT Championship and one-offs like the 24 Hours of Nürburgring.
It shares 60% of its components with the road-going car but for legislative reasons loses its four-wheel drive safety net. So the 5.2-liter N/A V10 delivers up to 495hp (the exact amount varies, and depends on Balance of Performance regulations), channeled to the rear wheels only via a seven-speed double-clutch gearbox and mechanical LSD. Sounds tasty. Looks tasty, too.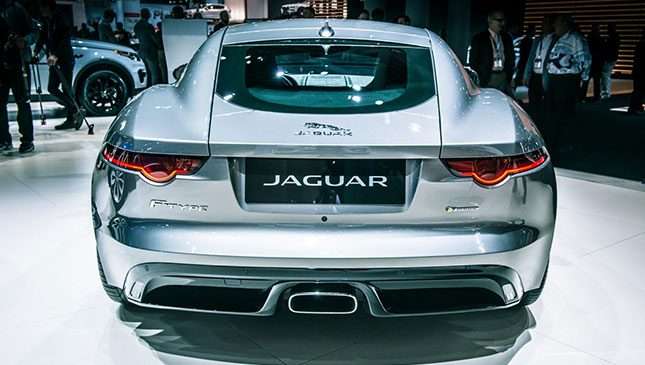 Jaguar F-Type
Damn you downsizing! It's all your fault that this Jaguar F-Type has a 2.0-liter four-cylinder engine. It's a new variant which now means there are now 20—yes, twenty—engine, transmission and body style permutations of F-Type to choose from. Why is this one notable? Because it's the cheapest, starting at £49,900 (P3.17 million). But it is also the most engine-deficient, with a 2.0-liter four-cylinder gasoline engine powering the rear wheels. Here are the York Notes: 295hp, 400Nm, an oblong exhaust, and half the price of a V8 SVR.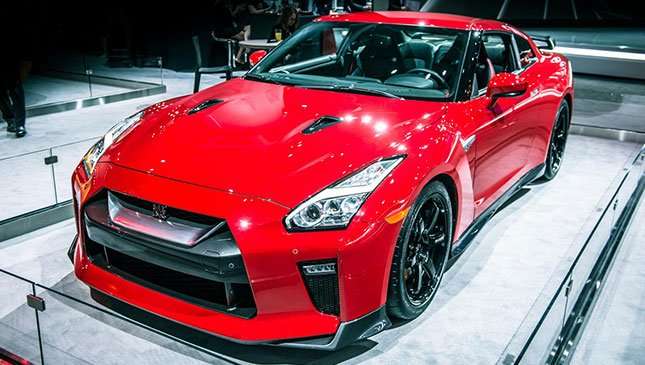 Nissan GT-R Track Pack
This one's called the Track Edition, and is a tough game of spot-the-difference for Skyline enthusiasts. Yes, it still delivers 562hp at 6,800 rpm, and 636Nm of torque, so there's no change to the 3.8-liter twin-turbo V6 attached to that brutally effective four-wheel-drive system and dual-clutch gearbox. A shame when there's the 600hp Nismo to pinch parts from. But there have been a few Nismo hand-me-downs.
First off, the titanium quad exhaust system from Nismo has found its way underneath the car, so you'll hear the guttural mechanical mayhem in all its glory. The independent suspension has also been tweaked by Nismo, including weight saving (the Track Edition is 1.8kg heavier than the Nismo but 8.1kg lighter than the standard car) and more roll stiffness. You'll spot the Nismo's 20-inch forged aluminum-alloy wheels, track-honed tires, front arches and carbon spoiler too. Inside, the Track Edition gets a flashy red and black color two-tone interior with Recaro seats.
Mercedes-AMG GLC 63 Coupe
Looks like a serious piece of kit, no? More so than the GLC43, certainly. In principle, it's a scaled-up version of the C63 on which it's based. It uses the same 4.0-liter, twin-turbocharged V8 with 469hp and 649Nm, or 503hp and 699Nm in the GLC63 AMG S, but adds rear-biased all-wheel drive (though Merc says the torque distribution is "fully variable") and the nine-speed wet-clutch automatic gearbox from the E63.
The top speed is limited to 249kph, but the 0-100kph time hasn't been released. Special three-chamber air suspension promises to "combine exemplary driving dynamics with excellent road-roar and tire vibration characteristics."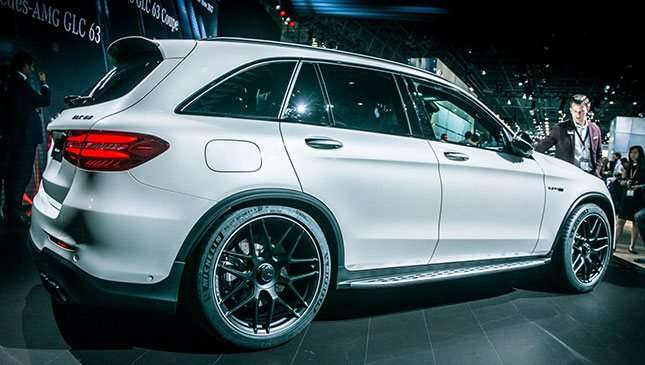 Mercedes AMG GLC 63
This is the same GLC63 you just read about on the previous paragraph, this time in non-coupe form. You scared yet, Porsche Macan?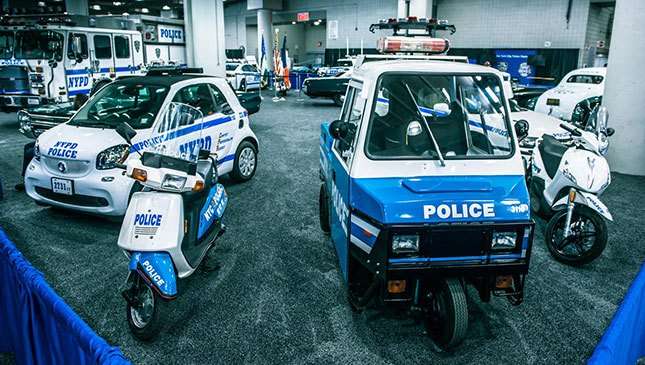 Pathetic police cars
We don't know why, but there was a whole corner dedicated to crap police cars.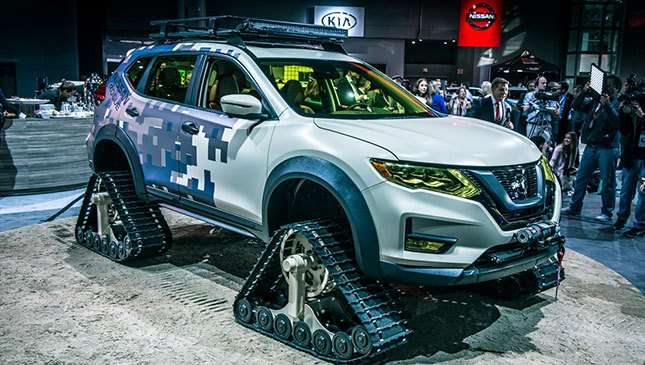 Nissan Rogue Tracks
The problem with the Nissan Rogue (X-Trail over here) has long been that it doesn't come with snow and sand tracks. In its infinite wisdom, Nissan has solved the problem with this: the Rogue Trail Warrior Project. Never let it be said it doesn't listen to its customers.
As you can see, it has tracks. Four of them, to be precise. One in place of each wheel. They're called 'Dominator' Tracks, and they're four-foot long, 30 inches high and 15 inches wide.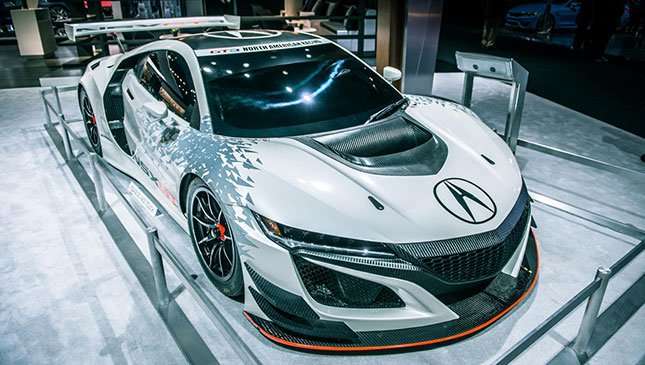 NSX GT3 Race Car
You know the Honda NSX. Now meet its slightly demonic, ginormously winged racing sibling.
It's brimming with all the attitude you'd hope for from a car designed for GT3 regulations. Like the air the car will carve through, allow your eyes to be drawn first to the dive planes at the front, before traversing the length of the car to that rear spoiler.
Beneath its skin is a 3.5-liter twin-turbo V6 engine, just like the road car. But unlike the road car, it's not supplemented by heavy hybrid gubbins, and it drives its rear wheels only. No word on power, but if it becomes a GT3 car, this will be dictated by a rulebook. Let's say somewhere around 500hp.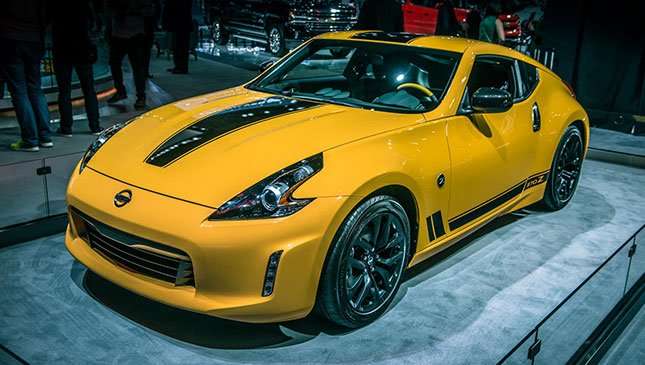 Nissan 370Z Heritage
In 2019, Nissan will blow fifty candles out to celebrate the anniversary of its famous 'Z' brand. You may have noticed we're in 2017, so the 'Z' brand is currently only 47 years old. Yet that hasn't stopped the Japanese brand getting a little too excited and giving itself an early birthday present in the shape of a very yellow 370Z.
It's called 'The Heritage Edition' and is essentially a bit of makeup to keep the aging V6 sports car alive a bit longer. There's new head and tail lights, smoked chrome door handles and, weirdly, a new, faster clutch. It's available in two colors: Chicane Yellow or Magnetic Black Heritage Edition with contrasting trim and graphics.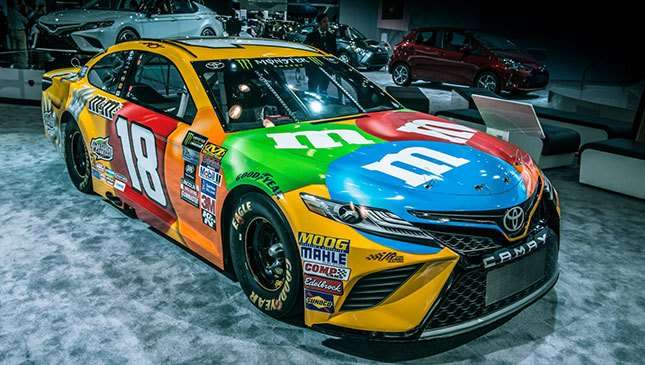 Toyota NASCAR
Yum. Horsepower and confectionary. Now that's a killer combination.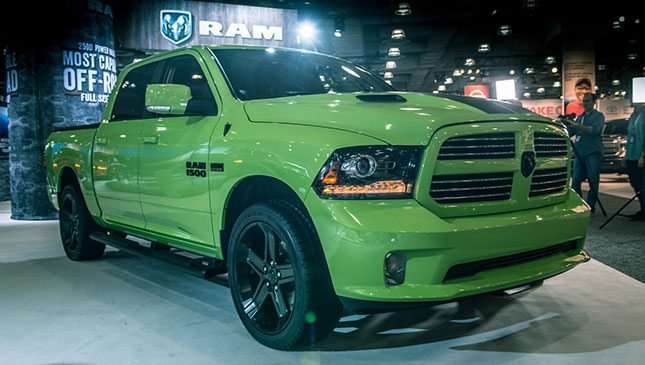 Ram 1500 Sublime Sport
Truckers, meet the Ram 1500 Sublime Sport. A very green Ram pickup truck that likes to do burnouts—just in case people didn't see you the first time.
As you can see, it features a bright green monochromatic exterior paint, an aggressive air-grabbing hood, blacked-out Ram grille and massive 22-inch black aluminum wheels. Inside, acid green stitching can be found on the Ram's head seat embroidery, sport mesh seat inserts and headlining.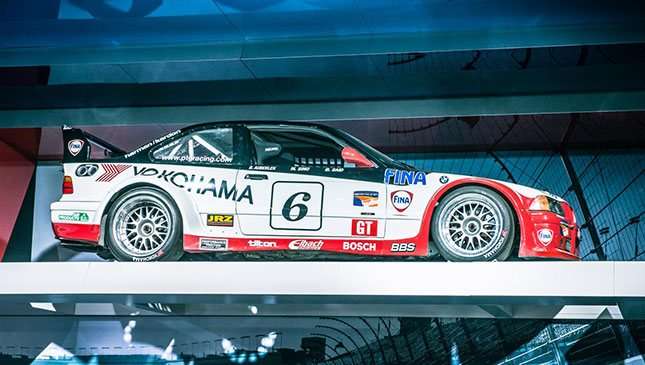 BMW E36 Race Car
BMW had nothing of serious note on its stand. But they did have this to distract us. Drool.
NOTE: This article first appeared on TopGear.com. Minor edits have been made.