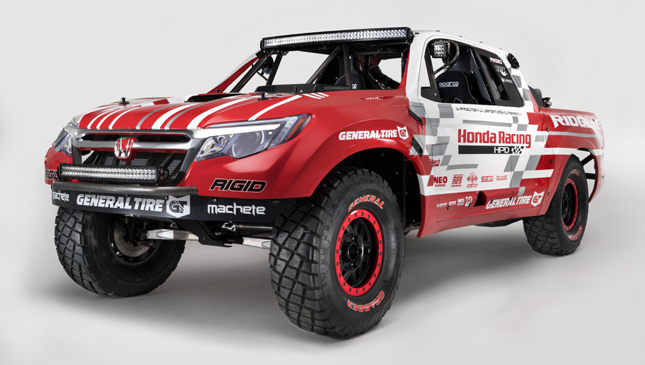 Hondas have always been known as tuner-friendly cars. Since the 1990s, we've seen more than a few Civics receive a slew of aftermarket parts, from updated wheels to full-on engine mods. So it comes as no surprise to find the Japanese carmaker fielding a massive display at this year's Specialty Equipment Market Association (SEMA) Show in Las Vegas, the largest trade show for anything aftermarket in the United States.
The main attraction of the Honda stand is the Ridgeline Desert Race Truck. For those who aren't aware, Honda does, in fact, have its own pickup truck which it offers in the US market. This modified version will signal the Japanese automaker's return to off-road racing via Honda Performance Development.
Meanwhile, those who aren't too keen on a Honda truck might want to check out models available a bit closer to home. Honda showcases four HR-V project models. Each of these pimped-out crossovers was built with some of the leading aftermarket tuners in the States. They give would-be HR-V buyers and owners an idea of how they can dress up their ride in order to stand out from the rest of the pack.
The all-new Pilot and the 2016 CR-Z also make an appearance at the SEMA Show, albeit in tuner guise. And of course, no Honda aftermarket booth would be complete without the Civic--the 2016, 10th-generation model, of course. This Civic is still fresh off the new-car line, and there are already a few ideas floating around on how to make it even more exciting.
Continue reading below ↓
Recommended Videos
And who can discount the other, more adventurous side of Honda--the racy, off-road side. This is taken care of by the Moto GP Race Replica RC213V-S, the Rahal Letterman Lanigan Racing IndyCar, and the Pioneer 1000 Side-by-Side (remember that?).
With an exhibit like this, who wouldn't get excited? The SEMA Show runs until tomorrow, November 6, in Las Vegas, Nevada.