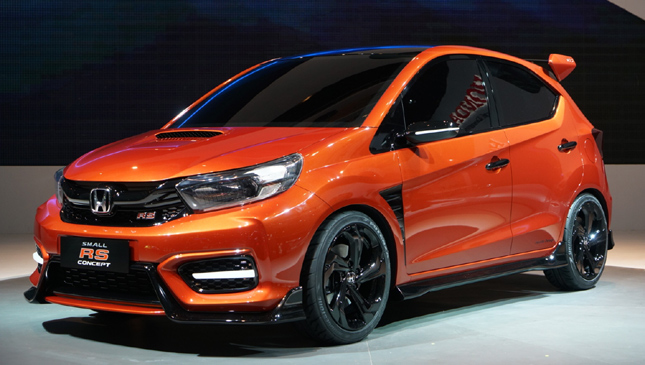 Sirs, this angry—albeit in a sort of cute kind of way—little hatch is the Honda Small RS Concept. It's currently on display at the Indonesia International Motor Show (IIMS), and reports are suggesting that this could very well be a preview of the next-generation Brio.
That's nice, but frankly we're getting more of a Mobilio RS chopped in half sort of vibe because of its front face. Not a bad thing, really, considering it's arguably the sportiest looking car in its segment. It definitely carries the shape of the small city hatch, too. Perhaps this is the Brio's RS variant? Until official word comes from the Japanese carmaker, it's all still speculation.
Continue reading below ↓
Recommended Videos
Anyway, back to the concept. Honda says the Small RS is a daily driver that features energetic driving dynamics aimed toward appealing to "young-at-heart" customers . Honda Prospect Motor president Takehiro Watanabe says: "Honda Small RS Concept is the implementation of our endless innovation, emphasizing Honda sporty spirit, especially in small car line-ups. As a concept car, this is our vision of what a small sporty car should be."
It certainly does look sporty with its hood scoop and spoiler out back. But the company didn't provide any performance figures or engine details, so it's up in the air whether these two bits actually serve a purpose. But if an atheletic in-your-face vibe is what Honda's going for here, it certainly achieved it.
So, would you like to see a little more spice added to the next-gen Brio's design?