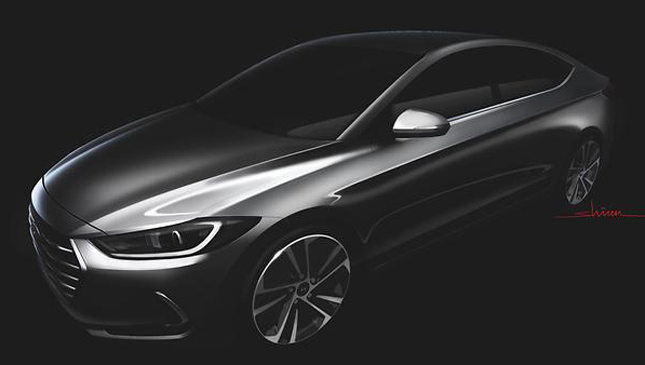 It looks like the Koreans are on a roll. Yesterday, we showed you sketches of the soon-to-be-released next-generation Kia Sportage, which is set to make its global debut at the Frankfurt International Motor Show next month. But it isn't just Kia that seems to be busy these days. Hyundai has likewise been releasing one model after another, both locally and internationally.
The all-new Tucson and the i20 Cross Sport recently graced our magazine's cover as they are set to make their launch on our shores. The Creta, a new subcompact SUV, is likewise teasing would-be buyers of the Ford EcoSport. And now, the Elantra compact sedan is due for a full model change.
This bit of news comes from a teaser photo released by no less than Hyundai itself. The last all-new Elantra was introduced back in 2010, which showed the world that the Koreans could make stylish cars that can rival their European and Japanese counterparts. Now, the sixth-generation model seems poised to continue that notion with an even more sophisticated demeanor.
The new Elantra makes use of a lot of "active character lines," as Hyundai calls it. These lines can be seen on the hood, the side panels, and other areas throughout the compact body. The trademark hexagonal grille, flanked by sleek headlights, complements them. The overall design has an energetic character to it, evoking a feeling of excitement.
Continue reading below ↓
Recommended Videos
Peter Schreyer, president and chief design officer at Hyundai Motor Company, weighed in on the upcoming product: "The all-new Elantra captures the car's unique design characteristics that really place this model in a class of its own. The subtle and innovative appearance enhancements reflect Hyundai's vision for design. Furthermore, this car indicates a move from traditional to modern styling by communicating the new model's comfort, fashion and sporty feel."
Hyundai hasn't revealed too many details about the car, including when the actual unveiling will be held. In our market, it will have to go past the Toyota Altis and the Mazda 3 to reign in its segment. We look forward to seeing if the upcoming Elantra can live up to that challenge.