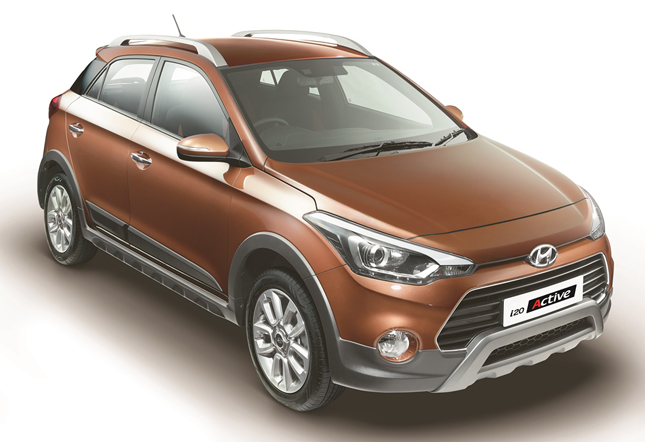 If there's one segment in the auto industry that's truly competitive, it has to be the SUV class. To be specific, it's the crossover segment of the SUV class. Yes, you read that right: The SUV class itself is divided into different subclasses: full-size, midsize, truck-based and car-based SUVs (also known as CUVs or crossovers).
But with car-based models like the Honda CR-V and the Toyota RAV4 (the pioneers, mind you) growing in size and price, the market has opened up a new class of vehicle: the subcompact CUVs. Offerings such as the Ford EcoSport and the Honda HR-V are some of the players in this segment. As the name suggests, these vehicles are based on subcompacts such as the Fiesta and the Jazz--they are just a bit more rugged, and they ride a tad higher off the ground for an SUV-esque stance.
Hyundai has joined the fray as it recently launched the i20 Active in the fast-growing Indian market. The name alone gives you an idea of what to expect from this little runabout: It is a more rugged, more "active" version of the i20 subcompact, with higher ground clearance to boot.
Being more rugged, however, doesn't mean it loses the style that Hyundai is now known for. It has a hexagonal front grille with chrome surround, lower honeycomb airdam, sleek projector headlamps, LED daytime running lights, and a sculpted hood signal. Other exterior touches include front and rear skid plates, roof rails, body cladding, and side moldings. The look is finished off with stylish diamond-cut 16-inch alloy wheels, chrome trim pieces, a rear spoiler, raked tailgate, and wraparound taillights.
Continue reading below ↓
Recommended Videos
Built on the i20 subcompact platform, the i20 Active combines versatility with upscale packaging. Buyers can choose from two segment-unique interior colors: Tangerine Orange and Aqua Blue. These give the car a sporty and youthful vibe. Speaking of upscale touches, the crossover receives such niceties as full automatic climate control, cluster ionizer, cooler box, engine start/stop button, aluminum pedals, and eight-speaker 2-DIN infotainment system with 1GB memory storage, Bluetooth, USB and auxiliary connectivity, just to name a few.
Powering the little i20 Active are two engines: a 1.2-liter Kappa gasoline motor with variable valve timing that puts out 83hp and 115Nm, and a 1.4-liter U2 CRDi diesel mill with 90hp and 220Nm.
In December, we reported that Hyundai Asia Resources Inc. will be launching three new vehicles this year, one of which is the i20 Cross. Although nothing has been confirmed, we have a hunch that the i20 Active is indeed the i20 crossover that HARI will be bringing in. Both are based on the i20 hatchback, which was launched at the Paris Motor Show in October.
We will let you know soonest once HARI announces something in this regard. In the meantime, what do you think of this model?