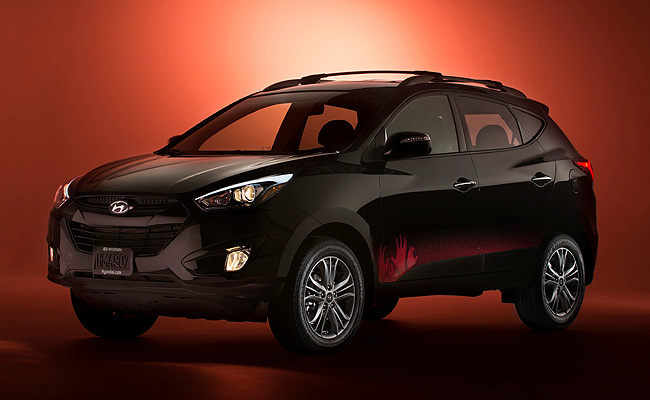 If you follow The Walking Dead TV series, you know that Hyundai has played a big part in it, with a Kiwi Green Tucson serving as one of the main vehicles of the show's protagonists until the middle of the fourth season.
Although the show's fifth season is still a long way off for its September premiere, Hyundai USA has made available to the public a special-edition The Walking Dead Hyundai Tucson that "captures all the iconic trappings from the hit series."
According to the Korean carmaker, the special-edition Tucson comes with an Ash Black exterior with a red accent graphics package as well as exterior/interior badges. Roof rack cross rails provide additional room for hauling necessary survival gear, while mudguards and custom floor and cargo mats help keep the vehicle clean. Inside the vehicle, passengers will find a black leather interior and a custom zombie survival kit--"a The Walking Dead 72-hour survivalist's backpack, a necessary item for any zombie prepper." A The Walking Dead Tucson quick reference guide will also help the vehicle's owner "utilize all the features in the special-edition vehicle."
For diehard The Walking Dead fans, the Tucson will come with vehicle decals for the four factions featured in it--Hilltop, Kingdom, Saviors and Survivors--"so owners can proudly display where their allegiance lies."
Continue reading below ↓
Recommended Videos
"The Walking Dead Tucson represents a chance for loyal fans to show their enthusiasm for the graphic novel series," said Hyundai USA Tucson product planner Christine Jew at the vehicle's public debut at the LA Auto Show in November 2013. "The Tucson is versatile, responsive and fuel-efficient, allowing just enough room for those wisely chosen passengers and supplies needed in the event of a zombie apocalypse or any survival scenario."
Would you buy one if this were to be sold here?