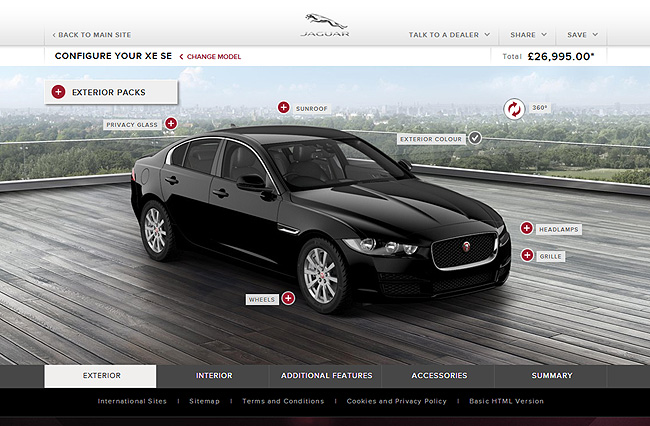 When it goes on sale in 2015, the Jaguar XE promises to be the most affordable model from the British marque, making it the easiest way for someone to own a piece of the iconic luxury car brand.
So if you've been fantasizing what it's like to own a Jaguar, you can now do so with the help of the carmaker's online configurator for the XE at Jaguar.com.
Based on the configurator, the XE will be available in five variants, from the entry-level SE to the range-topping S. Across all variants, the XE will come with Jaguar's new InControl infotainment system and a forward-facing stereo camera that's used by its autonomous emergency braking, lane departure warning, and traffic sign recognition systems.
Of course, the entertainment value of online configurators come with how much you want to personalize your vehicle, and the XE's configurator doesn't disappoint. Not only can you choose from a range of paint colors, interior trims, alloy wheels and exterior packs, you'll also be able to specify a range of high-tech kit like a laser head-up display that projects the speedometer and the navigation information onto the windscreen, a Wi-Fi hot spot to ensure driver and passengers are always connected, and cabin pre-heat via remote.
Continue reading below ↓
Recommended Videos
Jaguar's announcement of the XE's configurator also finally gives us the available powertrains for the model.
The SE and Prestige variants, for example, come with either one of two 2.0-liter turbocharged diesel engines that produce either 161hp or 178hp, and are paired with either a manual or automatic transmission, or a 197hp 2.0-liter turbocharged gasoline engine that's solely available with a slushbox.
The R-Sport and Portolio variants, on the other hand, are offered with the three engines mentioned earlier on top of the 238hp 2.0-liter turbocharged gasoline mill and automatic transmission.
Lastly, there's the S variant and its sole 3.0-liter supercharged V6 that produces 340hp and 450Nm through an eight-sped transmission.
Why not spec your very own Jaguar XE just for kicks?