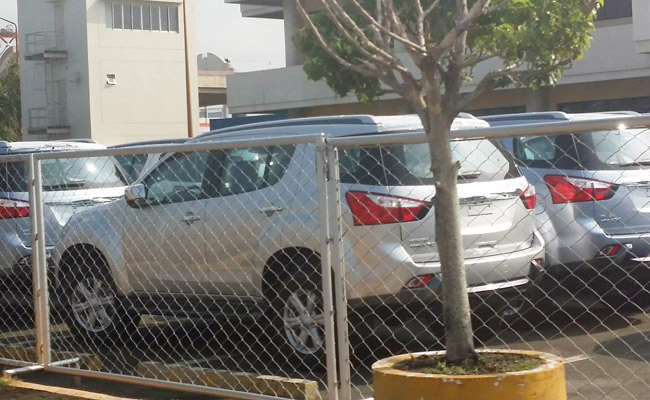 So, the Isuzu MU-X has landed on Philippine soil. Reader Ding Arambulo sent us these photos of a batch of MU-X units sitting in the Port of Batangas. Arambulo says he took these photos himself after a trip to Puerto Galera.
Last month, we posted photos of Filipino Isuzu dealer principals posing beside a unit of the MU-X. We mistakenly assumed that the pictures had been taken in the Philippines (they were taken during an Isuzu Philippines dealer convention in Thailand). Even so, we declared that we believed units of the MU-X were in the country already. Actually, we had inside info that we couldn't cite at the time due to a confidentiality agreement.
Anyway, here is proof that we can share with you now, because it didn't come from Isuzu Philippines. These images show the SUVs wearing "MU-X" badges. Does this mean the "Alterra" name will finally be retired? Or will Isuzu Philippines just slap on the "Alterra" badges in its Laguna headquarters?
ADVERTISEMENT - CONTINUE READING BELOW ↓
If you had your way, would you want this Isuzu SUV named Alterra or MU-X? Take our poll below.
[poll]569[poll]
ADVERTISEMENT - CONTINUE READING BELOW ↓
Recommended Videos