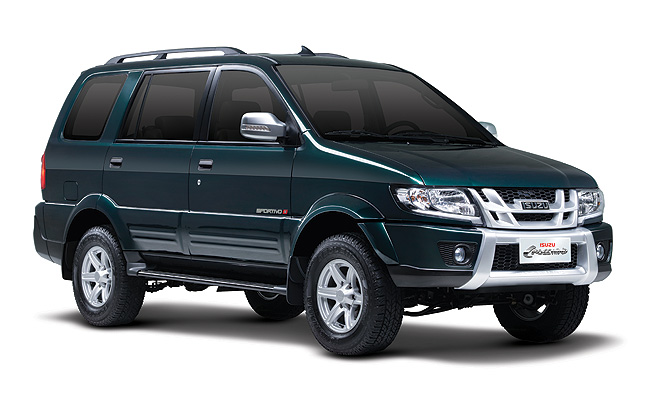 Now on its 14th year, the Isuzu Crosswind has once again been updated by Isuzu Philippines, equipping it "with attractive features that definitely set it apart from other AUV models on the market today."
For 2015, the Crosswind has a new one-piece color-keyed front bumper and a silver grille that's flanked by equally new multi-reflector halogen headlamps.
Isuzu Philippines also brought back the popular XUV variant, which the Japanese carmaker promises is the most affordable automatic-transmission MPV in the country. New to the 2015 Crosswind are 15-inch silver alloy wheels. The Sportivo X and XUV variants also come with black aluminum side-step boards, while roof rails are available for the Sportivo X, XUV and XT variants. Another feature of the Sportivo variant is the spoiler-integrated reverse camera that works with the reverse sensor.
"Form and functionality are what the 2015 Crosswind is all about," said Isuzu Philippines president Nobuo Izumina. "The Crosswind model is proven to be capable of not just stylishly carrying members of the family but also of serving as a reliable cargo-carrier for the enterprising few. But Isuzu believes in continuously improving its products, so we have decided to give the Crosswind an upgrade, and align it with the existing market trends to make our customers' everyday drive more special."
Continue reading below ↓
Recommended Videos
The 2015 Crosswind is available in Cosmic Black, Garnet Red, Ash Beige, Splash White and two new colors, Hunter Green and Dark Silver. The prices are as follows:
* Crosswind Sportivo X AT - P1.195 million
* Crosswind Sportivo X MT - P1.130 million
* Crosswind XUV AT - P1.010 million
* Crosswind XT MT - P883,000
* Crosswind XL MT - P794,000
* Crosswind XS MT - P750,000
Obviously, as far as the Crosswind is concerned, Isuzu fervently adheres to the adage, "Why fix what isn't broke?"