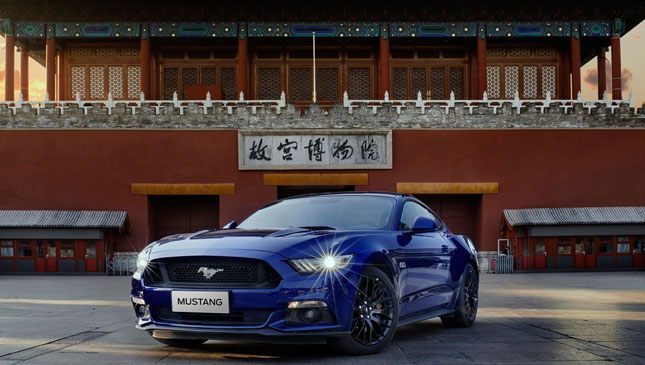 The iconic Ford Mustang is one of the most recognizable cars in the world, but until recently it had only been officially available in North America and a few other select markets. For the pony car's 50th birthday, the Dearborn-based automaker finally made it a true global model, a move that has proven to be very successful for the Blue Oval brand.
In the current-gen Mustang's first full year of global availability, Ford was able to move 110,000 fastback coupes and 30,000 convertibles in 140 markets. According to Ford sales analyst Erich Merkle, it was the only coupe model to breach the 100,000-unit sales mark globally last year. Perhaps it's not surprising to note that even with the availability of the four-pot EcoBoost variant, the 5.0-liter V8-powered GT version remains a desirable choice in most key export markets. One of the theories is that if you've been waiting five decades for this American legend to arrive, you might as well go all the way and get the one with a big honking V8 for the full muscle-car experience.
In Europe, over 16,600 units have been ordered to date, with sales in the UK reaching 3,500 units. The Mustang continues to impress by being the best-selling sports coupe in France and Germany--the latter a great achievement since this is the home turf of BMW, Audi and Mercedes-Benz. Its success in Europe is expected to continue as new colors and the latest SYNC 3 infotainment system hits dealerships in the second quarter of this year.
Continue reading below ↓
Recommended Videos
The popularity of the Mustang has also extended to Asia, the Middle East and Africa. It has topped the coupe segment in China where the small-displacement 2.3-liter EcoBoost variant has been a popular choice among the locals. The car has also been well received down under, where 90% of sales in Australia and New Zealand have been courtesy of the V8 GT variant.
North America's love affair with the Mustang continues to flourish as the car dominates in the US, where 12,563 samples were snapped up by excited owners last month. Just to show how big the Mustang's lead is against its American rivals, the combined sales numbers of the Chevrolet Camaro and the Dodge Challenger only amounted to 12,248.
After five long decades, the magic of the Ford Mustang is stronger than ever.