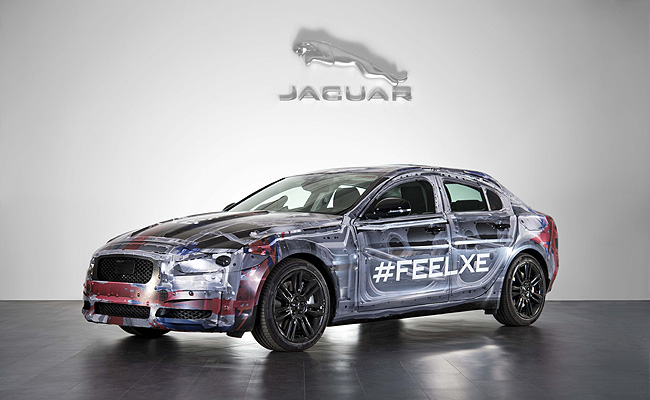 Five years after it produced its last compact sports sedan in the Jaguar X-Type, the British luxury carmaker has revealed that its latest offering in the segment will make its global debut on September 8.
Known as the Jaguar XE, it will be built on an all-new aluminum architecture and will supposedly "redefine the concept of the sports sedan."
A double-wishbone front suspension reportedly gives the XE exceptional handling and road-holding, and an integral-link rear suspension delivers sharp response and handling while retaining a refined, luxurious ride.
The XE will also sport Jaguar's latest-generation electric power-assisted steering system that allows a much greater scope for tuning than traditional hydraulic-based systems, giving it excellent steering feel, variable steering damping, ease of low-speed maneuvering, and the ability to adapt to Jaguar's drive control settings.
"Jaguar vehicles have always been renowned for a balance of precise handling and high-quality ride," said Jaguar chief engineer of vehicle integrity Mike Cross. "The XE is the culmination of everything the company has learned over the years. The integral-link rear suspension provides a combination of supple ride and crisp handling that is unmatched in this segment. We are on target to deliver a vehicle that dynamically outperforms our rivals."
The Jaguar XE will first go on sale in Europe in 2015 with North America following in 2016. No mention was made if and when the car will go on sale in other global markets like Asia.
ADVERTISEMENT - CONTINUE READING BELOW ↓