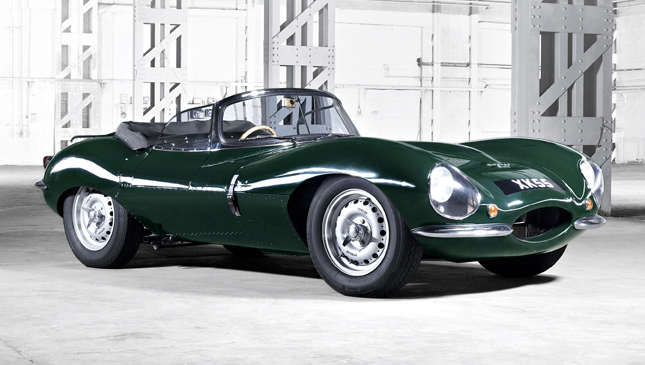 It looks like the chaps at Coventry have finally decided to give this car the happy ending it deserves. In March this year, Jaguar announced it would build nine units of the "continuation" XKSS after a 59-year hiatus. Its team of engineers and technicians are now hard at work preparing for its world debut at the LA Auto Show in November this year.
The XKSS was born from Jaguar's D-Type Le Mans race car. Although successful, by the end of 1956, the British carmaker announced it was retiring from motorsports. This left the company with extra unsold D-Types. Jaguar's co-founder Sir Williams Lyons had the brilliant idea of converting these racers into road-going cars.
Compared to the D-Type, Jaguar gave the XKSS a higher windshield, and then added windows and a passenger-side door. This also meant the elimination of the race car's partition between driver and passenger, as well as its large iconic vertical stabilizer fin.
Powering the roadster was Jaguar's 3.4-liter dry-sump in-line-six gasoline motor, said to produce around 250hp. This may not sound that impressive by today's standards, but the car's Lotus Elise-like curb weight gave it exceptional performance. It's not surprising that many consider it to be one of the world's first supercars.
Jaguar had planned an original run of 25 units for its road-going XKSS roadster, but a fire hit its Browns Lane factory in 1957, which prematurely ended the roadster's production run to just 16 units. One of the lucky owners of the original roadster was "The King of Cool" Steve McQueen.
ADVERTISEMENT - CONTINUE READING BELOW ↓
Jaguar, through its Classic division, is in the process of completing the original planned run by building the nine remaining units. Just to be clear, it won't be some kind of restomod with modern mechanicals hiding under a classic body. According to Jaguar, each handcrafted unit will be built to the same exact 1957 specifications. The purists should be jumping for joy!
If, by any chance, you were planning on purchasing one of these rare machines priced at over £1 million (P61.17 million) each, you're out of luck. All nine units have already found owners. Deliveries will begin in early 2017, 60 years after the XKSS's original run.
Anyone now wishing Jaguar would reproduce the legendary E-Type?