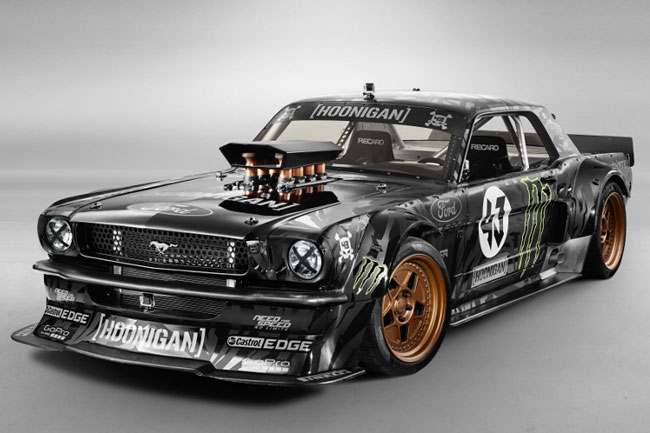 When it comes to viral motoring videos, few are as good at them as Ken Block and his Gymkhana series. Here in the office, we crowd around a computer when a new Ken Block video is released. Needless to say, we think the stunts, the cinematography and the cars capture the joy of motoring.
And speaking of cars, Block and Hoonigan Racing Division (the new name of the Monster World Rally Team) recently showed off the machine they plan to use in their next Gymkhana video. It's called the Hoonicorn RTR, and had been a 1965 Ford Mustang before Block, Hoonigan and RTR--an automotive tuner that specializes in Mustangs--turned it into the monster you see in these photos.
The Hoonicorn RTR has an all-wheel drive system, and it packs a 6.7-liter Roush Yates V8 that puts out 845hp and a tire-shredding 975Nm of torque. A six-speed sequential gearbox and a hydraulic handbrake system allow Block to easily play with all that power.
The design of this special Mustang draws influences from World Rally Championship cars, DTM machines, and even toy automobiles from Block's youth. A full two years reportedly went into the development of the Hoonicorn RTR. This one-off Mustang is currently on display at the Specialty Equipment Market Association (SEMA) Show in Las Vegas.
Continue reading below ↓
Recommended Videos
No official word has been given on when Block's next Gymkhana video will be released, but since he and the Hoonicorn RTR have already been spotted shooting in Los Angeles, California, last month, it shouldn't be long now.