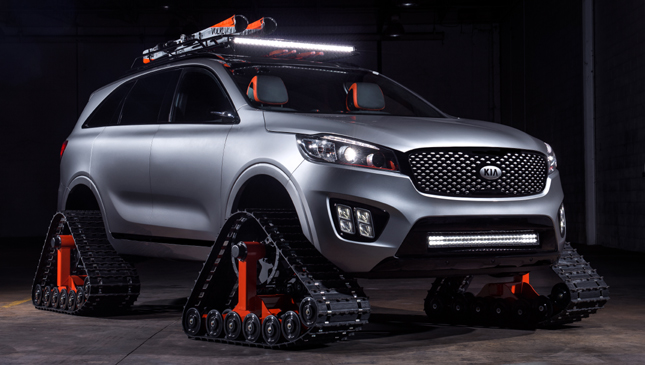 In 2015, Kia rolled into the Specialty Equipment Market Association (SEMA) show looking to get dirty with the Forte Mud Bogger. It was big, crazy and--most important--looking to get filthy where no other cars would dare. The Korean carmaker had the right idea, and for SEMA 2016, it's kicking it up a notch.
ADVERTISEMENT - CONTINUE READING BELOW ↓
This year, Kia is fielding five unique concept cars with completely different themes and target markets ranging from adventurers and rock stars to triathletes and businessmen. The most extreme project of the bunch is the Sorento Ski Gondola. In the company's words, the one-of-a-kind vehicle is designed to take SUVs to new heights, both literally and figuratively. Dominator rubber tracks allow it to tackle cold climates and snowy terrain with a LED light bar illuminating its path. Oh yeah, it's self-driving, too.
Meanwhile, the Soul First Class looks to pamper business travelers in-between meetings and rushing to the airport. It features rear-facing seats, a 40-inch LED TV, a mini computer and a premium sound system. The interior gets an upscale makeover courtesy of diamond stitching and modern gray wood flooring. Again, it's driverless.
The most unique of the company's 2016 SEMA entries has to be the School of Rock Sedona. Here, Kia turned a run-of-the-mill minivan into a recording studio on wheels. The setup is made possible via a digital mixing board with dual monitors, a ton of speakers, and even recording lights and boom mics hanging from the ceiling. The interior is lined with studio-quality acoustic foam panels for recording purposes, but the vehicle's lift gate flips open in case the band decides it wants to rock out in front of an audience.
ADVERTISEMENT - CONTINUE READING BELOW ↓
Recommended Videos
For those who prefer breaking a sweat over rocking out or basking in luxury, the Niro Triathlon is for you. Elite athletes can take advantage of the car's custom bike rack and rear laser bike lane light. The latter allows bikers to monitor speed, time and distance while cycling behind the vehicle via a tablet inside the vehicle afterwards. The best part? You can stick to two wheels and let the Niro drive on its own.
The last and tamest of the bunch is the Telluride concept. First unveiled back in January, the Telluride is a look at the future of luxury hybrid SUVs. Its doors open 90 degrees in opposite directions to create an open, panoramic space for its passengers, and it features a Light Emitted Rejuvenation system, which perks up its occupants via a huge, ceiling-mounted LED panel that puts out therapeutic lights.
So yeah, Kia brought something for everybody to SEMA 2016. Granted, they might not be the most extreme concepts at the show. But if we're talking creativity, some of these ideas definitely rank near the top.
ADVERTISEMENT - CONTINUE READING BELOW ↓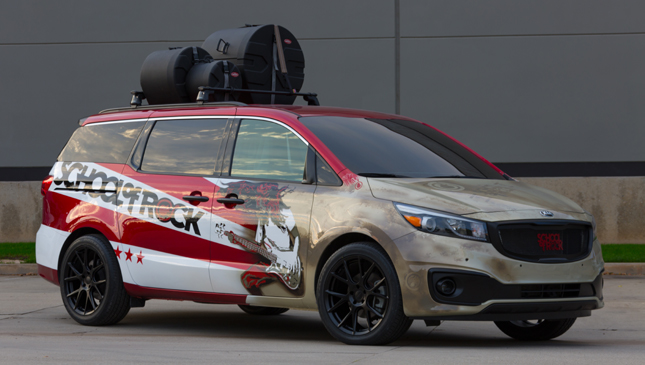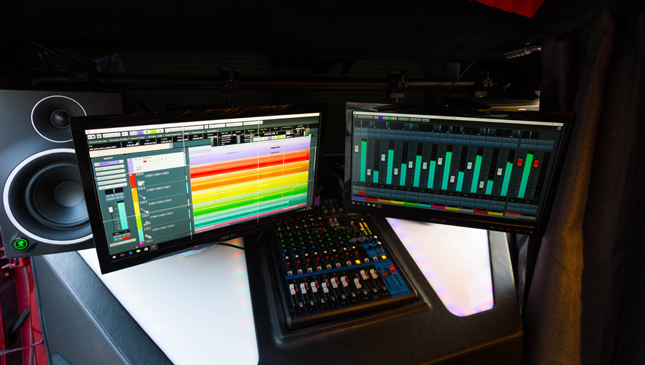 ADVERTISEMENT - CONTINUE READING BELOW ↓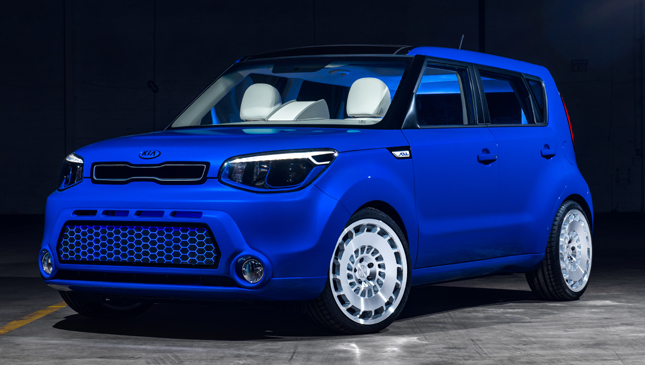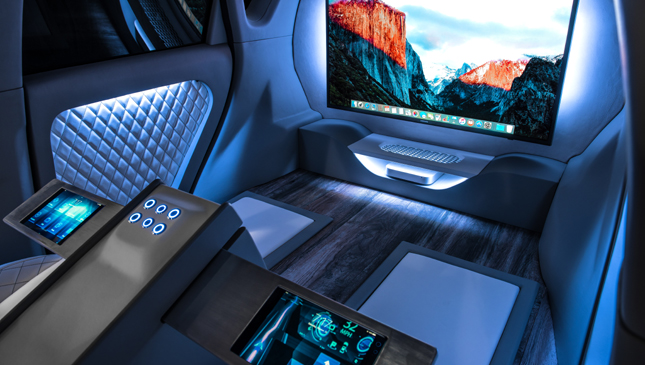 ADVERTISEMENT - CONTINUE READING BELOW ↓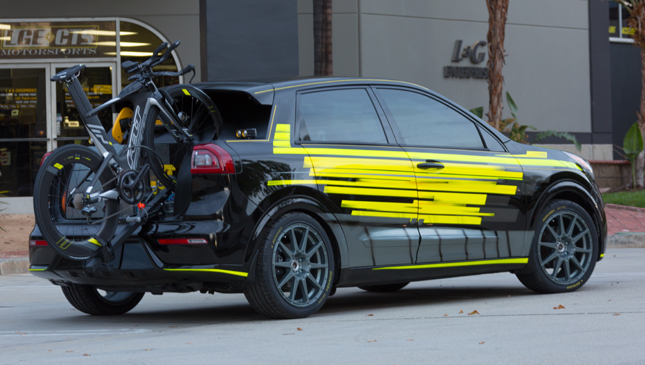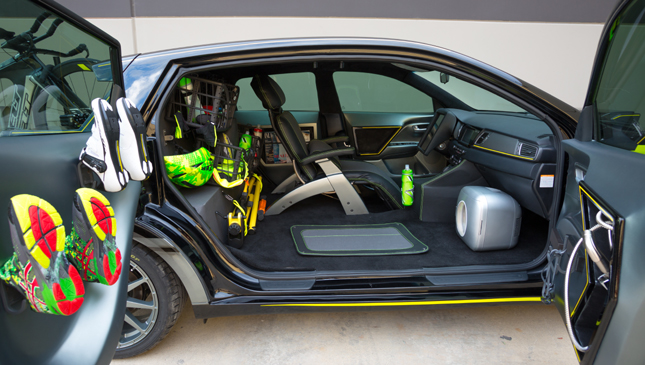 ADVERTISEMENT - CONTINUE READING BELOW ↓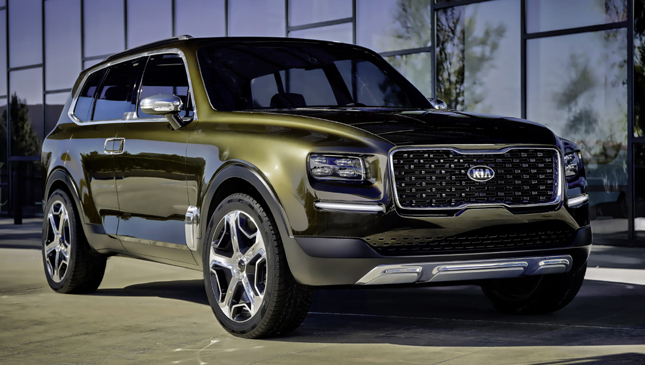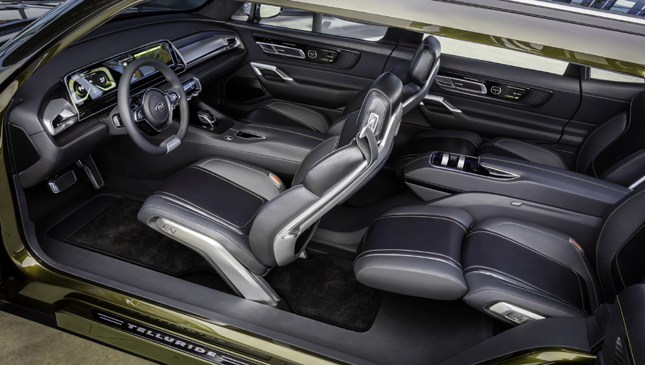 ADVERTISEMENT - CONTINUE READING BELOW ↓