Got your heart set on the facelifted Audi R8, have you? Hold fire. Its Italian cousin has also visited the Angular Bodywork Ltd. Factory, and emerged approximately 23% more angry-looking than before. Check out those spindly front aero blades and color contrast diffuser. These tell you you're looking at the new, 2019 Lamborghini Huracan Evo.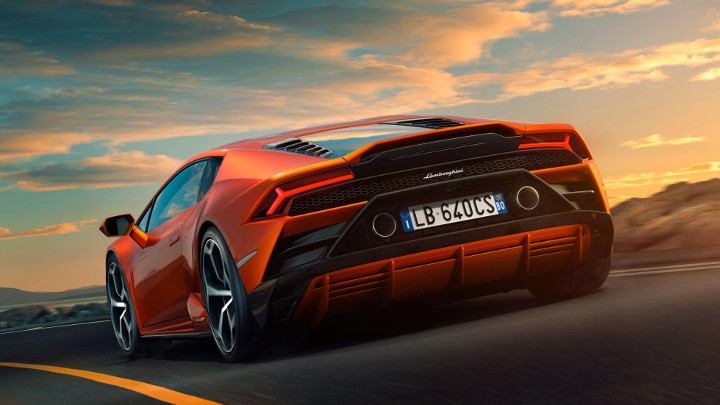 Lamborghini has shifted the exhausts up the car's backside, race-car style, to get the aero working more efficiently, and has conjured lots more downforce in the process. The factory claims the Evo "improves downforce and aerodynamic efficiency more than five times over the first-generation Huracan." Five times more? From a ducktail spoiler? Gosh.
Cleaving the air more sharply has given Lamborghini all the excuse it needed to increase the Huracan Evo's power output. The naturally aspirated 5.2-liter V10 now matches the Huracan Performante's totals of 631hp and 600Nm. That's enough to punt it from 0-100kph in a claimed 2.9sec, and on to 200kph in 9sec dead. Will it surpass 320kph, as prescribed in the supercar bible? Yep, 325kph is claimed.
Bit angrier-looking, bit more poke. Lambo could've left it there, right? Ah, but this is modern, 21st-century, Nürburgring-record-chasing Lamborghini. They're a bit more serious these days than just painting the diffuser orange.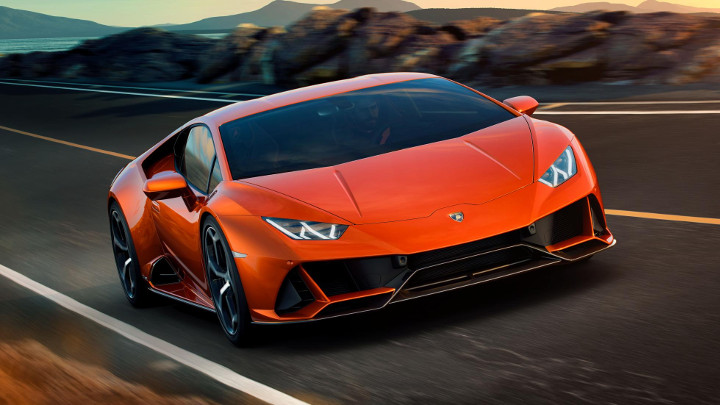 So, there's a fiendishly clever on-board computer with a sexy Italian name (Lamborghini Dinamica Veicolo Integrata), which lets the four-wheel steering, stability control, and torque vectoring chat with each other and sort out whatever ham-fisted inputs the human inside is making.
Apparently, it'll predict your future, somehow. Lamborghini says "a 'feed forward logic' is implemented via the dynamic controller, which means the car doesn't just react, but predicts the best driving setup for the next moment." Most likely, that'll be 'shoot flames for Instagram.'
Meanwhile, gyroscopes monitor your lateral, longitudinal, and vertical accelerations, as well as roll, pitch, and yaw rate, to suss out how big a moment you're about to have on Park Lane. There's also revised magnetorheological suspension that uses an electromagnetic current to alter how rattled your teeth are.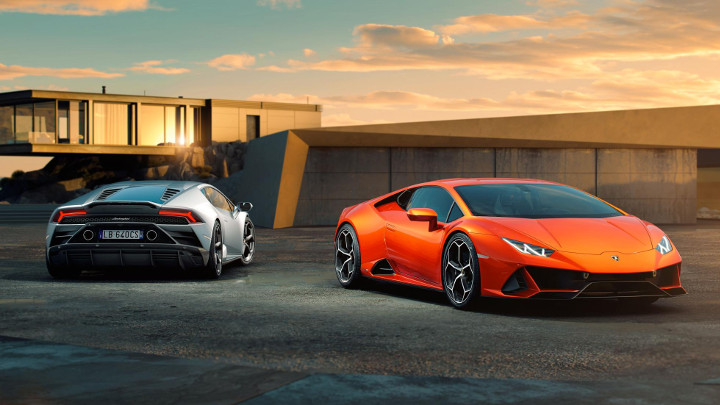 Drive is still sent to all four wheels via a seven-speed twin-clutch gearbox, and at last, you can alter the various settings to your own preferences, with an 'Ego' setting in the Anima menu. Just like in the Aventador S. Good ol' sibling rivalry.
Inside, there's a new touchscreen with Apple CarPlay integrated, right down on the center console...we think. Lamborghini insists it's built it, but didn't think to send any pictures of the updated interior. Maybe that bit's not finished yet. More as we have it.
A pretty thorough update for the baby Lambo, then. Question is, still want that R8? Or that McLaren 600LT? Or that Ferrari 488...
NOTE: This article first appeared on TopGear.com. Minor edits have been made.