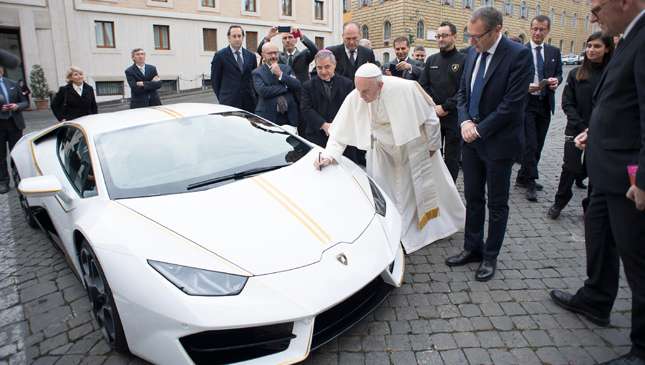 This incredibly meme-worthy image was shared by Lamborghini's official Facebook page yesterday. Yes, that is Pope Francis with a Huracan. And no, His Holiness isn't blessing the all-new Popemobile.
The Italian supercar you see being signed by the Pope will actually be auctioned off by RM Sotheby's next year, with proceeds going to a handful of charities and causes chosen by the Holy Father himself. The "unique and special specimen" is the work of the Italian carmaker's own personalization department, Ad Personam, and comes in Bianco Monocerus (white) with Giallo Tiberino (yellow) stripes as a tribute to the Vatican City's flag.
Continue reading below ↓
Recommended Videos
Disappointed? We understand. It would be quite a sight to see the head of the Catholic religion behind the wheel of an Italian supercar. But we doubt the Pope would have much of an opportunity to wave to the public and kiss babies while being ferried by a V10-powered supercar putting out 571hp and 540Nm of torque. And he's setting a good example for all the men of God out there. It's probably all for the best.
So how much will this Holy Huracan go for in 2018? No word yet. But the standard model minus the Pope's John Hancock has a price tag of over $200,000 (P10 million without taxes). Interested?