After six months of testing, Jaguar Land Rover has revealed a newly developed car door that opens automatically as the driver approaches it.
Called the "mobility door," this new feature provides assistance to individuals with physical disabilities, or to anyone carrying large items with both hands. It uses motion sensors and keyless-entry technology to detect a person as he approaches. To avoid obstructions that may potentially damage the door as it opens, the system relies on radar sensors.
As the driver steps into the cabin, he can close the door using an overhead button or the infotainment system, which shows the status of and operate all the doors equipped with the feature. In addition, the mobility door can be programmed to close and lock behind the driver as he walks away from the vehicle.
Continue reading below ↓
Recommended Videos
At first glance, it's like having an invisible chauffeur holding open a door for you. But Jaguar Land Rover intends for this technology to make life easier for those in need of extra mobility assistance. The company demonstrated the new feature with the help of Invictus Games gold medalist Mark Ormrod—a former Royal Marine Commando and a triple amputee—and a Range Rover Sport.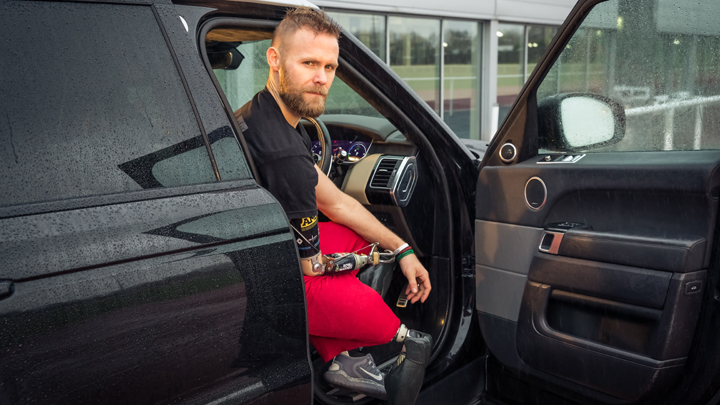 "This innovative Jaguar Land Rover technology would be such a benefit to me and has real power to change lives for those who face problems getting in and out of the car," says Ormrod. "Opening and closing the car door may seem like such an insignificant task to many people, but sometimes it's the small, everyday obstacles which people take for granted that are most frustrating to overcome for those living with disabilities."
Xu Zhou, deep learning technical research manager at Jaguar Land Rover, says: "The mobility door is an exciting piece of technology that offers a real-world value to our customers. There's also something very welcoming about the door opening on your approach—something we think will be greatly valued as we become more familiar with shared mobility."
It's nice to see carmakers haven't set aside the needs of disabled consumers. Hopefully, this piece of tech will one day come standard not just on Land Rovers, but on all cars in general.