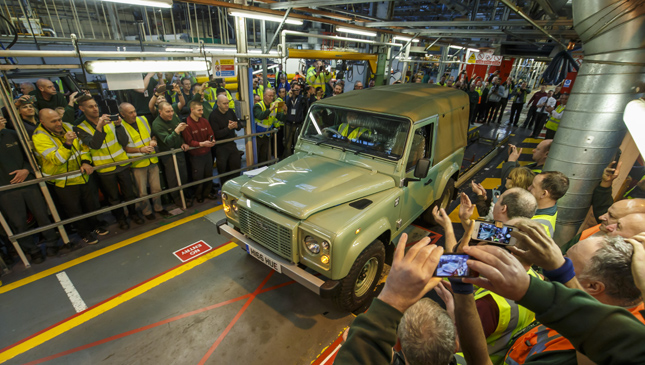 In the automotive industry, a car that has been in production for four or five years is already considered well past its shelf life. Some brands sometimes stretch out a vehicle model for several years longer. Long story short, most cars just don't stay in production for as long as you think, though there are some exceptions.
Of course, we're now segueing to the Land Rover Defender, which has continued rolling out of the assembly line in Solihull, United Kingdom, since 1948--until now. After roughly two-million examples and 68 years in existence, the very same vehicle has finally ceased production. The historic day for Land Rover was marked by an auspicious affair at the plant where the icon had been built since day one.
The special event was attended by no fewer than 700 past and present Land Rover employees who were once a part of building the cult classic. They all witnessed the roll-out of the final model, a Defender 90 Heritage with soft top. The Soft Top, enthusiasts may recall, was the first design ever employed by the off-roader. From then on, it evolved into several variations while still maintaining the design that had made it a legend the world over.
Fans who might be saddened by the end of an era will be pleased to know that Land Rover has just unveiled the Heritage Restoration program. As the name suggests, the British vehicle maker will lovingly bring classic Defenders back to life. The work will be undertaken at the Solihull plant--the very same site where these vehicles were first assembled. Moreover, they will be carefully restored by a team of experts who know these cars by heart.
ADVERTISEMENT - CONTINUE READING BELOW ↓
Apart from this, Defender Journeys is set to become the premier online scrapbook where owners and adventurers can upload fond memories with the iconic ride for the whole world to see. It's a way to share precious moments with others who have the passion for the brand and the vehicle.
While the day may be sad for many, it also marks the dawn of a new day for Land Rover. It's no secret that a second-generation Defender is in the works. There was even a concept unveiled a few years back showing the future direction this classic is set to take. While no details have been given just yet, Land Rover did hint that the new model is coming really soon.
All good things must come to an end, as the saying goes. Though the Defender might be driving off into the sunset, it will forever be etched in our hearts and minds as the mighty off-roader that could.