That's all, folks. The Volkswagen Beetle, one of the most memorable nameplates in the history of motoring, has moved on up to the big, shiny garage up in automotive heaven. The last units of the iconic ride have rolled out of the Volkswagen de Mexico plant, and we're not crying, you're crying.
Surprised? You shouldn't be. Volkswagen made the fate of its lovable people carrier known as early as late 2018 when the company announced a shift towards becoming a "full-line, family-focused automaker." Translation: "Yeah, SUVs and crossovers are the in thing now."
It's been quite a run for the Beetle, and some might argue it's the most impressive run there is as far as car models go: The Type 1, the most iconic of the bunch, sold more than 21.5 million units, with the second- and third-generation models selling a combined 1.2 million units between 1998 and 2010.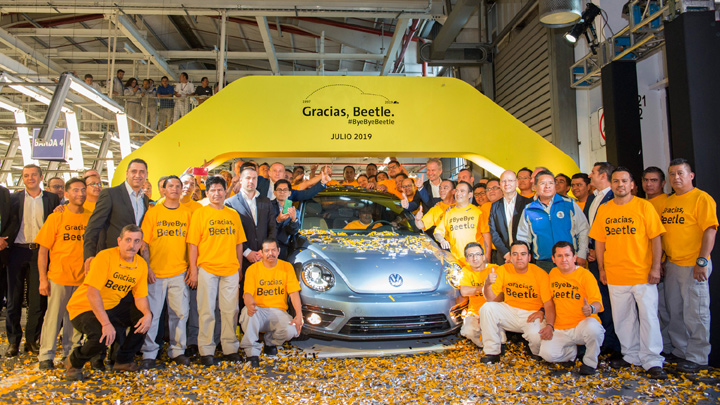 ADVERTISEMENT - CONTINUE READING BELOW ↓
The Volkswagen de Mexico plant has been responsible for all second- and third-generation Beetle production, manufacturing units for 91 markets across the globe. The carmaker says the facility will now focus on producing a new compact SUV for North America, and the last Beetle unit—a coupe in Denim Blue—will be on display at the local Volkswagen museum in Pueblo.
"It's impossible to imagine where Volkswagen would be without the Beetle," Volkswagen Group of America CEO Scott Keogh said in a statement. "From its first import in 1949 to today's retro-inspired design, it has showcased our company's ability to fit round pegs into square holes of the automotive industry. While its time has come, the role it has played in the evolution of our brand will be forever cherished."
We'll miss you, Bug. What's your favorite memory with the Volkswagen Beetle?