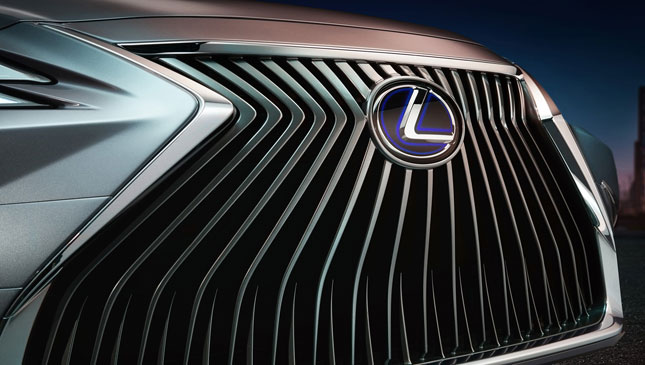 Pictured above, if you can't tell, is a vehicle's grille. It's Lexus' way of teasing its upcoming reveal at this year's Auto China show. We wish we could give you more info, but the accompanying text from Lexus doesn't reveal any more than the photo does. It reads: "This all-new Lexus vehicle aims to radically transform the driving experience for luxury consumers all over the world. Witness its global debut in Beijing on April 25, 2018 #ExperienceAmazing."
So really, all we've got to go on is a picture of a grille and a vague sentence to figure out what exactly this is. Well, for one, it shows a new take on Lexus' trademark spindle grille. Sharp lines and creases hint at a sleek, futuristic design. The blue hue on the badge denotes hybrid power capability.
Continue reading below ↓
Recommended Videos
If we look at news reports like the one on Autoblog, we get a much bigger hint at what's to come. Apparently, this is our first look at the all-new ES luxury sedan. The sixth-gen ES debuted way back in 2012, with a facelift in 2015, so that speculation fits within the timeline.
Okay, enough guessing. We'll learn the real truth soon enough.