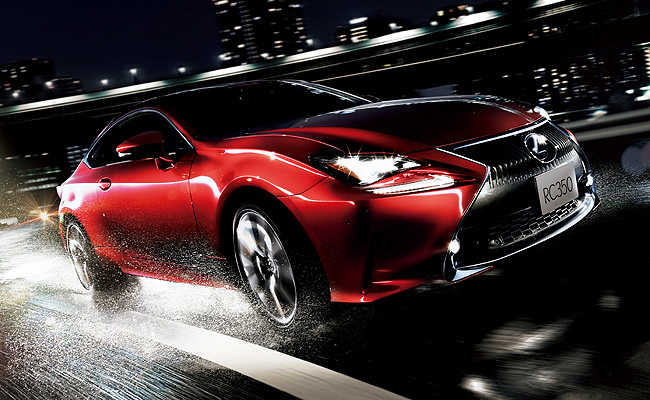 If you're a Lexus fan and you live in Japan, you're in luck because the RC sports coupe and its high-performance version, the RC F, are now officially on sale, with prices ranging from ¥5.650 million (P2.357 million) for the former to as much as ¥10.300 million (P4.292 million) for the latter.
As we reported nearly a year ago, the Lexus RC will be available as two variants: the RC350 and the RC300h. What Lexus has revealed now as the car goes on sale is that each variant has three trims each--the standard version, the F Sport and a "version L"--for a total of six variants.
The RC350 is powered by a 3.5-liter V6 engine that's paired with an eight-speed Direct Shift automatic transmission, while the RC300h is propelled by a hybrid of a 2.5-liter in-line-four mill and an electric motor, giving it a fuel efficiency of 23.2km/L based on the Japanese Ministry of Land, Infrastructure, Transport and Tourism's test cycle.
The RC F, for its part, has a 5.0-liter V8 powerplant under its long hood, which puts out 470hp and 530Nm. A clever party trick of the RC F's engine is that for urban driving and other low-load situations, the powertrain switches to the Atkinson-cycle engine combustion, similar to that used by hybrid cars like the Prius, "to achieve both high fuel efficiency and high output."
Continue reading below ↓
Recommended Videos
Lexus is also working on a race car based on the RC F for entry in the FIA's GT3 races. This is on top of the RC F-based race car that Toyota's luxury brand has already entered into the GT500 class of Japan's Super GT racing series.
For its home market, Lexus is eyeing 80 unit sales per month for the RC and 30 units per month for the RC F. Which version do you prefer?