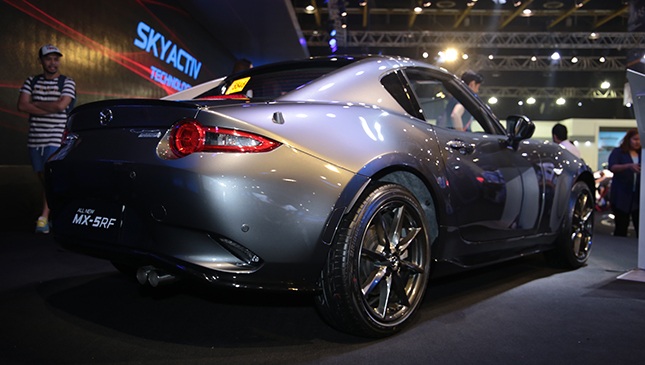 Last Sunday at the 2017 Manila International Auto Show, Mazda Philippines handed over the keys of the first batch of Philippine-spec MX-5 RF units to their lucky new owners. While only 11 units were present for the event, a total of 35 are already allocated, with more to come in the following months. The ceremony signaled a new age of Miata Jinba Ittai—one with less noise, a hardtop and…no manual transmission?
We've received inquiries regarding whether or not the company has any intention of bringing in manual transmission MX-5 RF units to the Philippines. As you may know, manual RF units are available in other markets. So, we reached out to the company for an answer. "Not at the moment," according to them, and the decision is based on the company's numbers, taking into account the model's price point and target market.
Continue reading below ↓
Recommended Videos
"No plans as of the moment. And if we base it on the local demand for the MX-5 ND, the majority still prefer the six-speed automatic Skyactiv transmission. Goes to show that the MX-5 still offers the same Jinba Ittai feel even with just two pedals," said a representative.
The main takeaway here is the "at the moment" bit. It's not a flat out rejection of the idea, so there's a chance? Anyway, it looks like if you want to see a manual RF here on our shores, you're going to have to keep showing interest. Chances are the company is monitoring buzz around the vehicle, so keep inquiring.