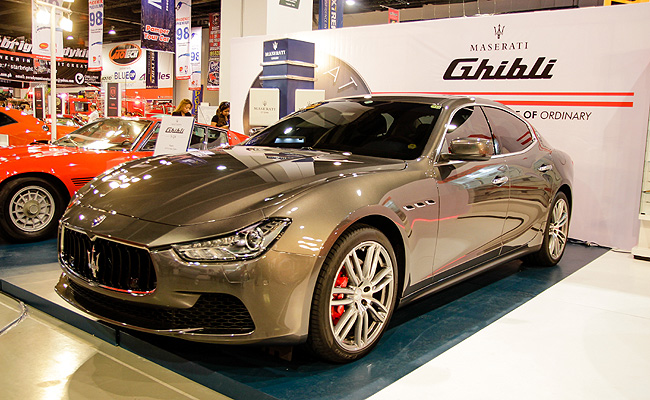 Autostrada Motore, the official distributor of Maserati cars in the Philippines, launched at the 2014 Trans Sport Show the Maserati Ghibli, a nameplate that the Italian carmaker last used in 1997.
Originally a coupe, the Ghibli is now a four-door sports sedan that "combines breathtaking design with exceptional handling qualities and outstanding performance."
"The launch of the Ghibli marks a turning point in Maserati's rich history," said Autostrada Motore executive director Marc Soong. "It is the first time in 100 years that the luxury Italian brand has presented two four-door sedan models simultaneously."
While the Ghibli is available globally in four variants, Autostrada Motore will offer to the market the standard model, which has 330hp under the hood and a top speed of 263kph, and the more powerful Ghibli S, which produces 410hp and can reach 285kph. Both models are powered by a turbocharged 3.0-liter V6 engine paired with an eight-speed ZF automatic transmission. A four-wheel-drive S Q4 model with the same engine as the Ghibli S can also be ordered, but the diesel-powered model won't be made available since it reportedly requires Euro V-quality fuel.
According to Maserati, the Ghibli shares parts of its core architecture, chassis, and suspension architecture with the Quattroporte. Its wheelbase, however, is 173mm shorter, on top of being 291mm shorter overall as well as being 50kg lighter.
Continue reading below ↓
Recommended Videos
The Ghibli's coupe stance is delivered by the distinctive C-pillar design, which also hosts the classical Saetta Maserati logo. The side profile is also dominated by a swage line that runs from the signature Maserati triple air vents behind the front wheels and terminates in the rear lights.
Inside, the Ghibli has a dual-cockpit dashboard design that further emphasizes the car's sporty character "without compromising on the highest level of refinement and sophistication." An 8.4-inch Maserati Touch Control screen dominates the center console, while fine Poltrona Frau leather cossets the occupants in luxurious comfort. Optional features offered for the Ghibli are a 15-speaker Bowers & Wilkins audio system, WLAN-based WiFi, and "a wide range of customization options that cater to the most demanding individuals."
As for the Ghibli's price, Soong would only say that it was competitive with the cars in its class, namely, the Mercedes-Benz E-Class and the BMW 5-Series. Our source from within Autostrada Motore gave us a more specific figure, saying that the Ghibli "is within the P10-million range."
Not bad for a luxury Italian car that has an engine made by Ferrari.