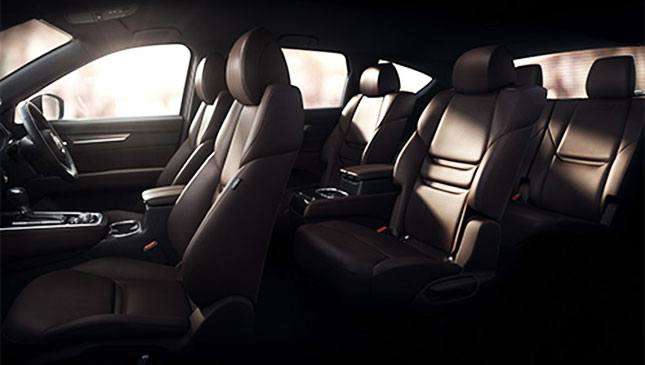 It's official: A Mazda CX-8 is being developed. The Japanese carmaker announced plans to launch the "first new-generation model" crossover in Japan by the end of the year, and it will feature three rows and six to seven seats.
Details are scarce as of now, and the only image made available by the company is an interior shot showing off the vehicle's new three-row layout. Other than the seating, we also know the CX-8 will still feature the full suite of Mazda's Skyactiv technologies and Kodo Design language. The carmaker says the CX-8 crossover will be the flagship of its SUV lineup in Japan.
Mazda president Masamichi Kogai emphasized the upcoming vehicle's increased seating capacity: "Our latest offering, the CX-8, is a new crossover SUV for people who appreciate quality and need a car that seats more than five," adding that customers can expect the same looks, performance and "high-end feel" Mazda is known for. "Even adults can fit comfortably in the third row," he said.
ADVERTISEMENT - CONTINUE READING BELOW ↓
The executive went on to say that the company will continue to advance its vehicle lineup and offer outstanding driving quality, as well as exemplary environmental and safety performance.
Along with the lone shot of the interior, Mazda has provided the dimensions of the car, as well as its engine and transmission. The CX-8 will be 4,900mm long, 1,840mm wide, 1,730 tall, and will have a 2,930mm wheelbase. It will run on a 2.2-liter Skyactiv diesel engine mated to a six-speed automatic transmission.
We're very curious as to how the all-new CX-8 will look on the outside. Not long ago, word broke out that Mazda was developing a seven-seat CX-5 crossover. Is this it? By comparison, the CX-5 measures 4,550mm long, 1,840mm wide and 1,680mm tall—it's also available in a 2.2-liter diesel. We'll keep you posted as soon as more details emerge.
ADVERTISEMENT - CONTINUE READING BELOW ↓
Recommended Videos