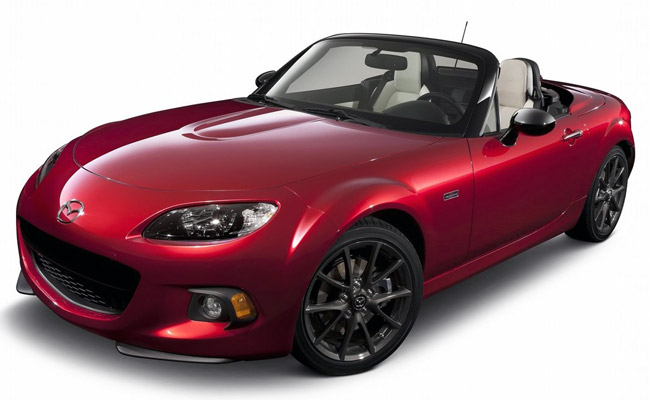 If you're a fan of the Mazda Miata (also called MX-5)--or, to be pretty specific, if you're a member of the Miata Club Philippines--here's some good news for you: The recently unveiled Miata 25th Anniversary Edition is arriving on our shores in August. The announcement was made today by Berjaya Auto Philippines, the exclusive distributor of Mazda vehicles in the country, during the monthly gathering of the aforementioned Miata group at Manila Polo Club.
"This year, Mazda in the Philippines, together with the Miata Club Philippines, is joining the rest of the world in celebrating the 25th year of pure driving enjoyment with the MX-5," said BAP president and CEO Steven Tan. "We are very privileged to be allocated 25 units from the very limited global production. We can't imagine a better way to kick off the 25th-anniversary celebration than with 25 units of the limited edition coming into the Philippines. Essentially, we become part of the global MX-5 community in this historic automotive celebration."
Now, 25 units allocated to the Philippines is quite remarkable. Tan told TopGear.com.ph that the Miata 25th Anniversary Edition will be limited to just 1,000 units. Of this total, 700 have been earmarked for Europe, 200 will go to the US, and 50 will stay in Japan. That leaves the rest of the world with just 50 units. Of this remaining paltry number, our humble market has been able to secure 25 examples, thanks to Tan being able to convince a high-ranking Mazda Motor Corporation executive that the Philippines has one of the world's most passionate groups of Miata enthusiasts.
Continue reading below ↓
Recommended Videos
And to honor the local Miata fraternity, reservation and sales of the 25 units have been exclusively entrusted to its care. Which means club members have first dibs on the limited batch. As you read this, in fact, it is highly likely that all 25 units have already been spoken for.
The selling price? The collectible Miata will be sold for P1,800,000, about the same price as a Toyota 86.
"You're probably wondering why people would want to buy this limited edition when the new-generation model could arrive as early as next year," Tan said. "If you're an enthusiast or a collector, you will definitely want to own this."
And so, when the Miata 25th Anniversary Edition arrives in August, Berjaya Auto Philippines will throw a party--not so much to launch it as to celebrate a milestone.
Miata Club Philippines was founded in 1997. Some of its members are going to Mazda Raceway Laguna Seca in California in September to participate in the global Miata 25th-anniversary celebration, according to club president Allan Lavaro.
"It is with great pride that MCP will be part of the festivities commemorating the MX-5's 25th anniversary," declared Lavaro. "Our members are looking forward to welcoming the Miata 25th Anniversary Edition as a symbol of this classic car's enduring contribution to spirited driving."