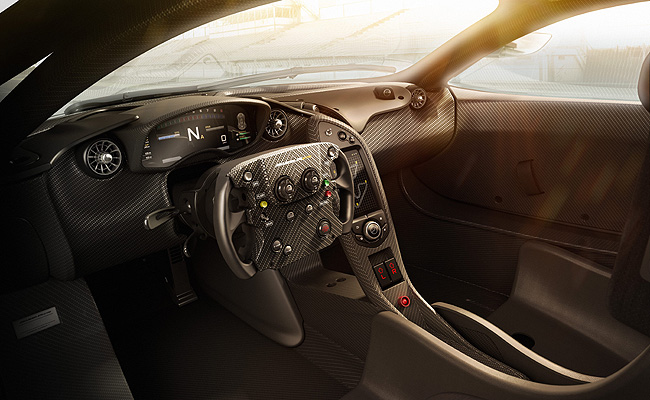 In August, McLaren Automotive revealed its P1 GTR, the spiritual successor to the McLaren F1. Unfortunately, while the bespoke British supercar maker showed us the car's exterior from different angles, it failed to give us a glimpse of the inside.
Two months have passed and it's only now that we finally get a good look at the car's interior.
Designed to be driver-centric, the highlight of the P1 GTR's cockpit is its newly developed steering wheel, which is designed to make all its controls "as easily accessible and user-friendly as possible." Although the steering wheel is unique to the P1 GTR, its design is based on the steering wheel of the 2008 Formula 1 championship-winning McLaren MP4-23. And just like a Formula 1 car, key controls of the P1 GTR are located at the center of the steering wheel, allowing the driver to adjust the car's setup and driving characteristics without having to take his hands off the wheel.
According to McLaren Automotive, the design and the implementation of the steering wheel and its controls were done so that it "can be comfortably operated, and is easily accessible when you're in a full race suit, helmet and gloves."
The P1 GTR retains the lightweight carbon-fiber monocage chassis of the road car, which weighs just 90kg including the upper and lower structures, roof snorkel, engine air intake cavity, battery and power electronics housing. And since the 'roll cage' is incorporated into the monocage, the car retains the same headroom as the road-going model.
Continue reading below ↓
Recommended Videos
The cabin is also equipped with lightweight DTM-style seats and full six-point motorsport harnesses. Specifically set up for the individual driver and mounted directly onto the chassis, the seats had their weight reduced by having no additional mounting brackets. The HANS-approved carbon-fiber seat shell also offers comfort and support, "and has been ergonomically designed along with the rest of the cabin controls."
Despite the P1 GTR's stripped-out environment, it still comes with an air-conditioning system "to maintain comfort during the much more physical driving experience."
"With the McLaren P1 GTR driver program, we have aimed to do something different, very much like the way we operate the rest of the business," said McLaren Automotive chief test driver Chris Goodwin. "We don't follow the trends. Our road cars are different from our competitors. So, too, will be our driving program."