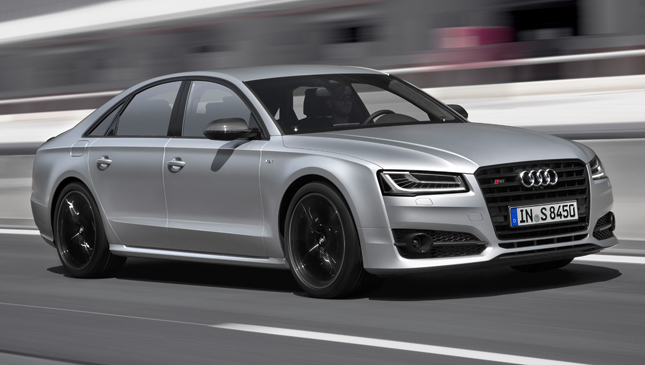 The new Audi S8 Plus may look like your run-of-the-mill A8 sedan, but under the hood throbs a 4.0-liter TFSI bi-turbo V8 motor that pumps a rousing 605hp and up to 750Nm of torque. That's some 85hp over the standard S8 sedan, allowing the large executive express to scoot from 0 to 100kph in a mere 3.8 seconds. Top speed is limited to an electronically governed 250kph, although you can have it removed so you can go all the way to 305kph.
But the new S8 Plus isn't just about sheer power. Just like Audis of yore, this one has the distinction of being one of the lightest premium sedans in the segment, with its body made almost purely of aluminum. The signature Audi Space Frame--a technological highlight that has been used in production Audis for a few decades now--means that the car is strong despite the weight savings. The frame even tips the scales at a featherweight 231kg.
This lightness means that the S8 Plus can duke it out with the best supercars out there, thanks in part to these tech goodies: eight-speed Tiptronic gearbox, Quattro all-wheel drive, a sport differential, sport and dynamic steering, adaptive air suspension, and specially designed 21-inch wheels wrapped in sticky 275/35 rubber. Not sporty enough? How about adding carbon ceramic brakes with gray calipers and the Audi ceramic logo, along with a sonorous Quattro GmbH-tuned sport exhaust to the mix?
Continue reading below ↓
Recommended Videos
If you're the type that wants onlookers to know you're driving something that's a cut above the rest, the S8 Plus obliges. The German automaker threw in a discreet decklid spoiler. The side blades, the air inlets, and the front apron trim are clad in carbon fiber. And a slew of parts like the mirror housings, the diffusers, and various trim pieces are accented in gloss-black finish for a truly sporty touch. You can even order the car in a special matte-effect Floret Silver color, exclusive to the S8 Plus.
With this kind of power and luxury, you can simply have one car for both the weekday office commute and the weekend jaunt to your favorite mountain roads. Of course, we know that this won't be your only steed. But hey, it can be if you want it to.