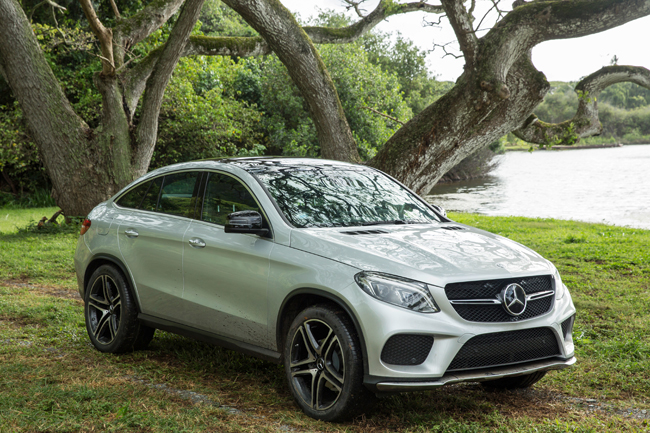 Eighteen years ago, audiences were treated to one of the first public appearances of the then-new Mercedes-Benz M-Class. The German carmaker had just thrown its hat in the SUV category, and it chose the Steven Spielberg-helmed The Lost World: Jurassic Park to debut its new sport-ute.
It was a spectacular introduction--to car nuts like us anyway. In the 1997 sequel to Jurassic Park, the M-Class ably demonstrated its off-road performance while tussling with an adult tyrannosaurus.
In the next installment of the Jurassic Park franchise--entitled Jurassic World--the upcoming GLE Coupe will be used by main stars Chris Pratt and Bryce Dallas Howard. Spielberg will executive-produce this Hollywood flick, with director duties being undertaken by Colin Trevorrow.
If the new Mercedes GLE crossover coupe wows us like its predecessor did almost two decades ago, the BMW X6 competitor's image will get a healthy boost.
"We are delighted to have been able to support this epic action-adventure with our vehicles," said Dr. Jens Thiemer, head of marketing communications for Mercedes-Benz. "Our wide range of SUVs fit perfectly with Jurassic World's various requirements, with the focus on our new trendsetter, the GLE Coupe."
The particular variant to be used will be a GLE450 AMG Sport. Because Jurassic World was already filming one and a half years before the GLE's reveal, security on the set was very tight. Even in remote filming locations on the Hawaiian islands of Oahu and Kaua'I, and on NASA terrain in New Orleans, the Benz coupe had to be shielded from eager photographers.
Continue reading below ↓
Recommended Videos
"Unveiling the new GLE Coupe in Jurassic World was a natural fit as we continue our relationship with Mercedes," said producer Frank Marshall. "Audiences will find that the vehicles featured in the film lend themselves perfectly as the transportation of choice in the fully functioning international theme park we have created at Jurassic World."
Jurassic World will be released on June 12, 2015. We'll certainly line up to see that.