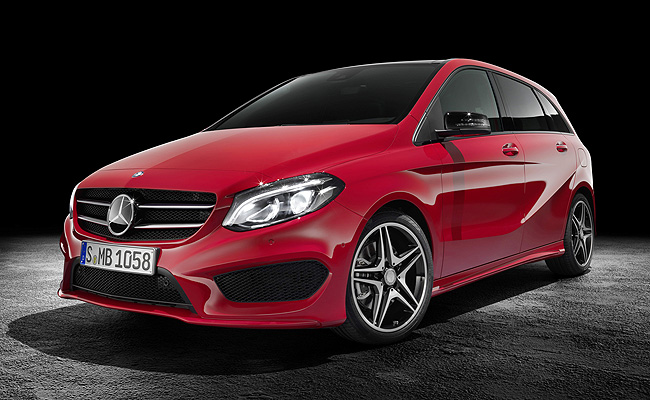 Mercedes-Benz has updated the second-generation B-Class, almost three years since it hit the global market but just over a year since it was launched in the Philippines.
According to the German carmaker, the B-Class has received a major facelift, "including exterior and interior enhancements along with attractive, redefined design and equipment lines."
A new bumper, a wide radiator trim with two louvers, and integral daytime running lights in the headlamps supposedly give the updated B-Class a more organic and dynamic appearance up front. Changes to the rear include a modified bumper, which now has a contoured covering and an additional chrome strip. LEDs are also used now for both the headlamps and the taillights.
For the interior, the B-Class has a larger free-standing head unit display at eight inches, and a stylish dial layout for the instrument cluster. Ambient lighting is also now available in 12 different colors, "allowing different moods to be created."
Engine choices for the updated B-Class include three diesel mills and two gasoline powerplants. The B180 CDI has a 1.4-liter engine rated at 109hp and 260Nm. The B200 CDI gets a 2.1-liter mill that churns out 136hp and 300Nm, while the similar-displacement power unit for the B220 CDI puts out a slightly more powerful 177hp and 350Nm. As for the gasoline-powered models, the 1.6-liter engine in the B180 produces 122hp and 200Nm, and the similar-displacement powerplant in the B200 ekes out 156hp and 250Nm.
Continue reading below ↓
Recommended Videos
"As the first member of a completely new generation of compact class, the B-Class paved the way for great success in this vehicle segment," said Mercedes-Benz Cars board member for marketing and sales Ola Kallenius. "The pioneer is now in better shape than ever. The B-Class is the perfect family car for anyone who attaches importance to practicality, comfort and safety, but at the same time doesn't want to miss out on sportiness or driving dynamics."
Delivery of the updated Mercedes-Benz B-Class to its owners will begin in November in other markets.