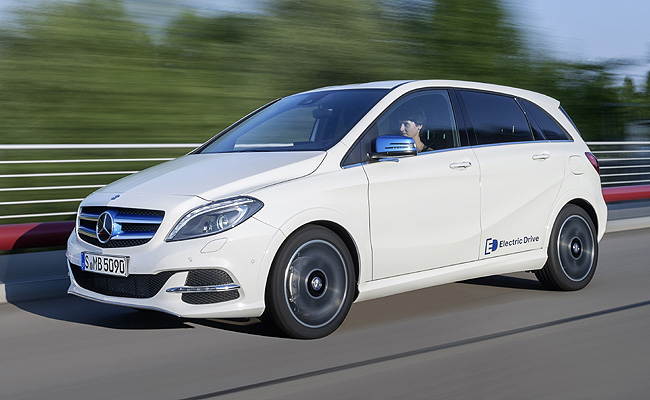 Mercedes-Benz has finally put its very first volume-production electric car on sale with the B-Class Electric Drive.
Using technology that was developed by electric carmaker Tesla, the B-Class Electric Drive is reportedly not only the fastest-accelerating five-seat electric car in its class, but is also the most powerful one. Not to mention it has the best theoretical range on a single charge as well. Capable of traveling up to 228km on a single charge, the B-Class Electric Drive has an electric motor that produces 180hp and 340Nm, allowing it to run from zero to 100kph in 7.9 seconds.
The B-Class Electric Drive retains the vehicle's versatility, including the ability to carry five adults and 501L of cargo--1,456L if the seats are folded down--since the lithium-ion batteries that power it are packaged under the floor of the car, so it retains its cabin room and boot space. Charging the vehicle via a wall box or public charging station is made easier through a fast-charging cable supplied with the car, which takes three to four hours and brings the battery from a completely empty state to fully charged. A conventional charging system, however, increases the charge time to around nine hours.
The B-Class Electric Drive is available in either Sport or Electric Art model line. The Sport model features unique front and rear bumpers, 17-inch alloy wheels, LED daytime running lights, a seven-inch central display, Artico trim, automatic climate control, a reversing camera, and cruise control. The Electric Art model, on the other hand, features contrasting mirrors and radiator-grille elements, 18-inch dual-color alloy wheels, automatic climate control, contrast blue stitching for the seats, and aluminum trim.
Continue reading below ↓
Recommended Videos