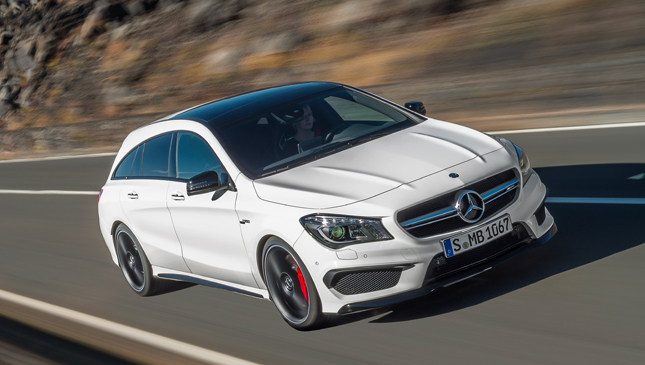 Mercedes-AMG has made a name for itself by combining the comfort and vault-like solidity of a Mercedes-Benz with the sporty nature of a high-powered performance car. Thanks to the tuning arm of the German carmaker, drivers around the world have been treated to such models as the C63 AMG compact sedan, the E63 AMG executive sedan, and even the M-Class SUV in AMG form. And now, the tandem's latest offering comes via the hot new CLA45 AMG Shooting Brake.
The fourth high-performance compact to come out of the Mercedes-AMG factory, the CLA45 AMG Shooting Brake offers the performance-car traits of the AMG line, wrapped in a practical and stylish station-wagon bodyshell. For the uninitiated, the term "Shooting Brake" traces its roots to 19th-century Britain, where a type of vehicle was used to carry shooting parties (or hunters) and their game. The term has since evolved and now refers to a station wagon or estate, albeit with a sloping rear roofline, just like a coupe.
And just like the larger CLS63 AMG Shooting Brake, the compact CLA gives buyers a ticket into the exciting world of Mercedes-Benz. What's more, such owners get a taste of high-performance in an AMG package. The sleek looks feature a low-slung greenhouse, high beltline, long hood, large fenders and, of course, the trademark Shooting Brake sloping rear end. Despite the sharply raked rear, owners can still have the practicality and versatility of a station wagon, minus the mom-mobile looks that the body style usually connotes.
Because this is an AMG model, drivers will naturally be treated to the utmost in driving fun. Under the hood throbs the most powerful 2.0-liter four-cylinder engine in the world. The turbocharged motor puts out a rousing 360hp and 450Nm. This translates to 180hp per liter of displacement--and with a standstill-to-100kph time of 4.7 seconds, drivers and their four passengers will definitely feel the rush each time they step on the go-pedal. Thanks to the AMG Speedshift DCT seven-speed gearbox, one can average around 14.5km/L. Talk about responsible driving fun.
ADVERTISEMENT - CONTINUE READING BELOW ↓
Being both a Mercedes-Benz and an AMG, the car has all the sporty bits and luxury amenities to tick off the options list. Stuff like adaptive brake, collision prevention assist, AMG doorsill panels with brushed stainless steel, and AMG floor mats all come standard. Plus, you can specify options such as red brake calipers, a slew of carbon-fiber exterior and interior trims pieces, and a performance exhaust system and steering wheel, just to name a few.
The CLA45 AMG Shooting Brake debuted at this year's Geneva International Motor Show. Hopefully, local Mercedes-Benz distributor CATS Motors can launch it in our market.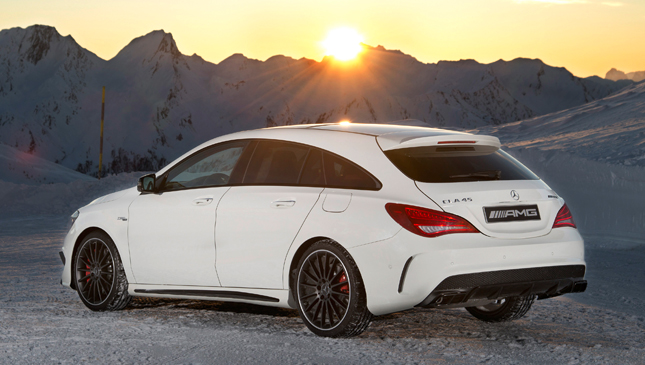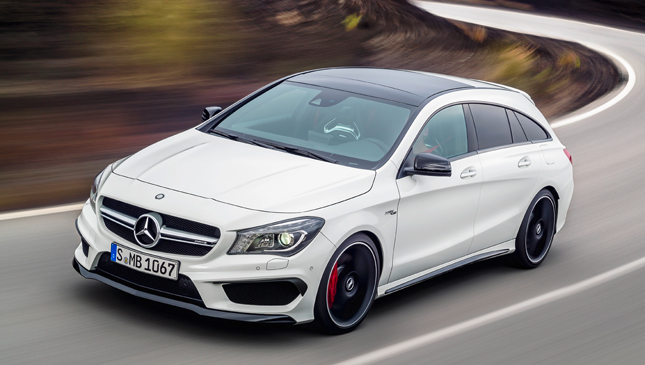 ADVERTISEMENT - CONTINUE READING BELOW ↓
Recommended Videos