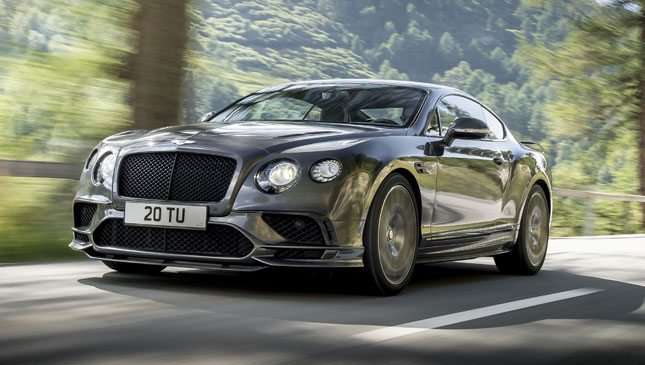 Earlier this week, we released a story about how 'The most extreme Bentley ever' was going to be revealed soon. Well, here it is. Meet the new Continental Supersports, the most powerful and fastest accelerating Bentley ever made.
The British carmaker's new grand tourer comes either with a fixed roof or as a convertible. The exterior features new front and rear bumper designs with a carbon fiber splitter and diffuser. It also has gloss-black front wing vents and a new gloss-black rifled exhaust tailpipe design. Completing the Batmobile-esque look are dark-tint head and taillamps, plus an array of black-finished details along the rest of the exterior.
Continue reading below ↓
Recommended Videos
Inside, the Continental Supersports reveals its luxurious side. For one, it has a tri-color finish, a first for the current-generation Continental GT. It also has a new diamond-quilted design on the seats and door-side panels. The premium feel is capped off with new Supersports emblem stitching, carbon fiber panels, and a bespoke steering wheel.
Now, some stats: The Continental Supersports has a massive 6.0-liter twin turbo W12 under the hood that cranks out 700hp, with 1,017Nm to match. It's mated to a ZF 8-speed automatic gearbox. The hardtop can hit 336kph and will reach 100kph in 3.5 seconds. The convertible isn't far behind, with a top speed of 330kph and a 3.9-second 0-100kph time.
It's got the handling to match all that power, too. The new Bentley has a specifically calibrated and updated version of the torque vectoring system that was first introduced on the Continental GT3-R. This system brakes individual front and rear wheels during acceleration out of corners while maintaining full power on the un-braked wheels. Plus, it brakes the inside rear wheel when you turn to improve agility.
The Continental Supersports also retains the rear-biased torque split of Bentley's all-wheel-drive system, with 60% of its power going to the rear wheels as standard. Despite all this sportiness, though, its lowered and stiffened dynamic suspension set-up still retains that comfortable ride quality.
No word yet if or when this will hit our shores. Anyone reserving a unit?