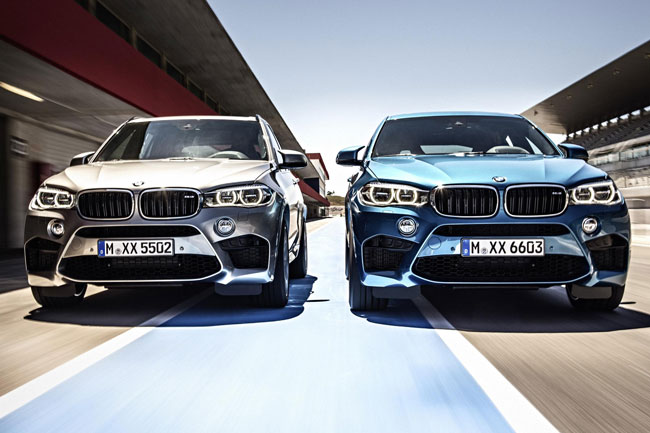 While we're fans of practically anything BMW with an 'M' badge on it, we have to admit we felt a bit of apprehension when we first found out that the X5 and X6 twins were getting the M treatment five years ago. The thought of BMW's SUVs (or SAVs as the German carmaker likes to call them) getting performance upgrades sounded a bit excessive. But we suppose there's a market for these powerful Bimmers out there, because the latest M-powered X-Series models have arrived.
We featured these M twins on our cover back in January 2011. Since then, they have improved by as much as 10% in power, torque and performance, while lowering fuel consumption and carbon-dioxide emissions by over 20%.
The X5M and the X6M are powered by a new 4.4-liter TwinPower V8 that has two TwinScroll turbochargers. This unit generates 575hp and 750Nm. BMW says it is the most powerful engine it has developed for four-wheel-drive vehicles.
Paired with a new eight-speed M Steptronic transmission, both the X5M and the X6M can accelerate from zero to 100kph in 4.2 seconds, all the way to an electronically limited top speed of 250kph.
All M models have to perform well at the famous Nurburgring, and for this the X5M and the X6M have sophisticated sump and suction snorkel geometry to ensure proper oil flow inside the engine--even up to 1.2G of lateral force. A combination of low- and high-temperature radiators makes sure the engine coolant, engine oil and transmission oil are properly cooled.
The xDrive four-wheel drive system is normally biased toward the rear wheels, but when needed, 100% of torque can be sent to either axle.
On the outside, the X5M and the X6M can be spotted by their massive air intakes up front, and the diffuser at the rear to perform cooling and aerodynamic functions--although we admit they look darn cool, too. Seen from the front, both BMWs are identical. They diverge as your gaze moves back to the body: The X5M stance is upright for practicality and versatility, while the X6M's shape flows like a sports coupe.
In the cabin, there's an M leather steering wheel with gearshift paddles, an M gearshift lever, an M drive menu in the information display, and M drive buttons on the steering wheel. Fine-grain Merino leather with contrasting stitching wraps the M front sports seats.
Despite the sporty aspirations, creature comforts are not neglected. The M SUVs are equipped with electric driver seats with memory functions, downlights on the exterior door handles, split tailgates with a powered upper section, dual-zone climate controls, leather-trimmed instrument panels, and Aluminum Trace interiors with Pearl Gray chrome finishers.
European delivery for the X5M and the X6M will start in April 2015. For the millionaires reading this, there's still time to save up.