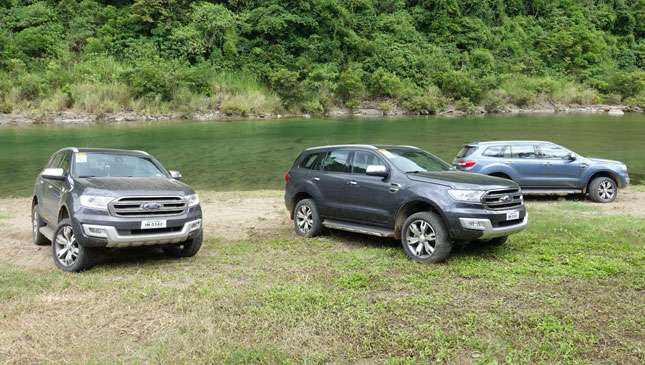 Newly appointed Ford Philippines managing director Bertrand Lessard made himself available for a round-table discussion recently. We got to chat with the fellow, and were pleasantly surprised to learn that his first foray into the automotive world was as a mechanic. He's also a huge fan of the Mustang, too, having owned more than 13 before even joining Ford. Here are some snippets from that intimate lunch:
On the dominance of the SUV over the sedan segment:
"It's a very competitive market that is more dominated by SUVs. It is overtaking the sedan. It's happening all around the world, but at a different pace per region. The car business will not die, but people prefer the safety and security of an SUV. Plus, the design of the SUV is getting so much nicer. And fuel-efficiency is getting better and better. All manufacturers know that people want to buy SUVs, so let's make them look better and be as efficient as cars."
Continue reading below ↓
Recommended Videos
On the very competitive local market:
"We need to gain market share. We aren't competing in all of the segments right now, and that is a challenge. We will be bold and aggressive in the segments where we are present. Like with the Ranger."
On the impending revised excise tax:
"The tax seems to be reasonable and fair for everybody. It's a challenge to adjust. Because of that, how we will market our vehicles will change slightly."
On the arrival of Ford's high-performance models:
"No. We will not bring in the Ford GT. A special edition of the Mustang? Maybe. We will continue to expand the importation of the Ford Mustang, and we are thinking of bringing the convertible version here next year."
On the arrival of the Ranger Raptor in the Philippines next year:
"We are going to bring some other things that are exciting. Raptor will come here. It's a very exciting product that is tough and as fun to drive as the the F-series-based Raptor that is sold in America.
On the new Ranger and Everest:
"If you want a pickup, test the Ranger. Ford is all about trucks. There will be a slight change in the look, but there will be new engines next year."
On the growing aftermarket industry:
"Aftermarket parts have to be built to our very high standard. We will consider bringing in Ford Racing parts. We are starting to bring some accessories already."
On his love for the Mustang:
"The Mustang has always been a dream car for me. Before I even joined Ford I had already owned 13 of them. The service station that my family had when I was young became a body shop. I'd fix Mustangs, drive them, and sell them after that. I'm a fan of the Shelby, and have owned some. I'm passionate about these cars. I had a chance to drive the previous Ford GT on the track, and to be honest, I thought I didn't think I'd be comfortable, but it was very comfortable for a guy my size."
On building relationships with Ford's Philippine dealers:
"If you are sitting in your Ranger, there is a very big windshield and a small mirror for looking back. Focus on what is ahead. It's good to look behind from time to time, but we focus on what is ahead. I'm not here to fix conflicts. I'm here to sell cars. My relationships with dealers, that's what I'm good at. And that's what I want to improve. I have been a dealer for years. That doesn't make me the perfect guy for this, but I can understand the language. It is a two-way street, and respect goes two ways. We may not always be in agreement, but we want the same thing: We want to sell cars, make more profit, and make more customers happy."
Welcome to the Philippines, Bertrand!