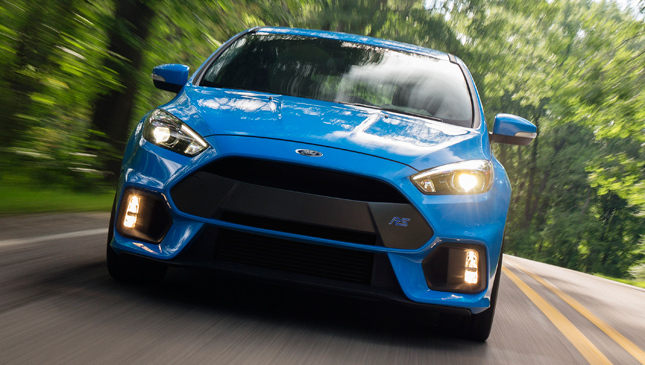 The Ford engineers are becoming quite good at squeezing power out of their EcoBoost powerplants. In the all-new Focus RS, the boffins managed to produce 350hp--far above the original estimate of 315hp--from a turbocharged 2.3-liter four-cylinder mill. That means the Focus RS engine is putting out 152hp per liter of displacement.
Ford achieved this through a new low-inertia twin-scroll turbocharger. It has a larger compressor wheel that delivers more airflow and power throughout the rev range. The boost can go as high as 23.3psi. Strong cast-iron cylinder liners will handle the force generated by this powerful engine, with torque figures reaching a stupendous 474Nm. And while the redline may be 6,800rpm, the engineers tuned the Focus RS to deliver power from idle--with an especially "chunky" midrange delivery.
Purists will be delighted to know that this hot hatch only comes with a manual gearbox. But if all that power and torque overwhelms the driver and he fumbles the gas-and-clutch footwork, the Focus RS has a nifty feature called stall recovery. When the car senses imminent stalling, it pushes the clutch back in, and the driver doesn't have to do that hurried motion of slotting the shifter back in neutral and restarting the engine. Because few things are as embarrassing as having a serious sports car and having it stall on you.
ADVERTISEMENT - CONTINUE READING BELOW ↓
Production of the Ford Focus RS will begin later this year, and it is part of what Ford calls its golden age of performance. The plan is to bring 12 high-performance models to market worldwide by 2020. As always, we hope that includes our humble neck of the woods (hello, Ford Philippines).
ADVERTISEMENT - CONTINUE READING BELOW ↓
Recommended Videos