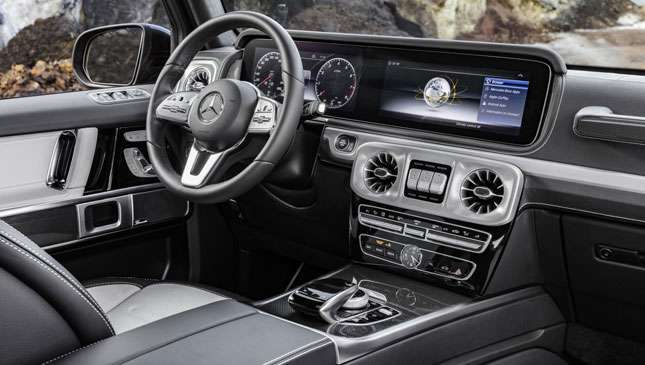 1) It's a LOT roomier. About bloody time. The G-Wagen was designed in the late '70s when apparently, people didn't have elbows. For such a large car there's a comically hemmed-in feel to sitting up inside one, hunched behind the steering wheel, ear hard-up against the door window like a private detective in a motel.
The new G-Class (it's not a Wagen anymore, because it's posh) sits on an all-new platform specifically designed for the car. That's a fabulously, insanely expensive move for Mercedes to make. When I ask Mercedes people, including head of G-Class, Gunnar Guthenke, how much it cost to build an entirely new chassis upon which to wrap a body that looks basically identical to the current G-Class, they all clam up, look away, and scuff their shoes.
And then, when prodded, mumble something about it being 'even more than you'd think'. But, Mercedes doesn't want to make the same mortal error as Land Rover—i.e., letting crash legislation catch up with your most iconic vehicle, until the point it can't be built any more. The G-Wagen has to regenerate to avoid going the way of the Defender. And its faithful buyers want more space, and need better crash protection. So, they've got it.
If you want the math, you've got 150mm more rear legroom, 38mm more shoulder room, and 68mm more elbow room. But because it remains boxier than a Rubik's cube and the indicators sit helpfully atop the wings, it ought to be no trickier to park.
Meanwhile, one of the top customer requests was more stowage. The G-Class was invented before mobile phones existed. The new one has more cubbyholes and sockets to hide and charge them. That's the whole philosophy of the new G summed up, really. Make it 21st century-relevant, but keep the character.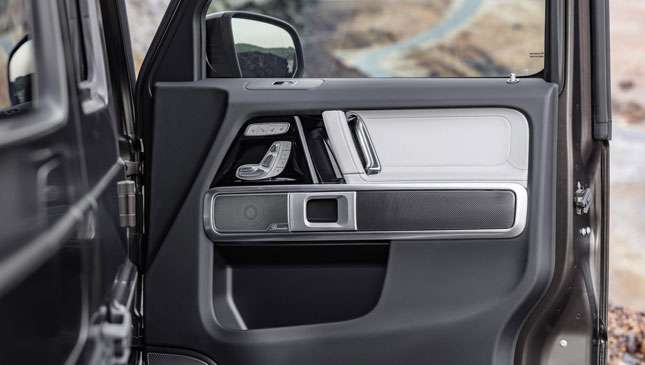 2) The new G-Class should be safer, too. Gunnar Guthenke, G-Class mack daddy (not his official title) says the interior tech engineers' hair turned white trying to bring the new G-Class up to scratch on driver assists. By contrast, "the safety engineers pulled their hair out."
Trying to make a machine with the curvaceousness of a block of flats be kind to pedestrians and crumple kindly when bashed into an immovable object is no picnic.
And then, since we're focusing on the interior here, there's the grab handle on the dashboard. Mercedes was adamant that it had to remain, because it's a classic G-Class feature, a graspable link to the past and let's face it, useful in those 'oops, that's an ambitious entry speed' moments. How do you get a grab handle to pass occupant crash tests without imploding a passenger's head? How does the airbag fire around a rock-hard plastic/wood/carbon bar? Those answers, says Gunnar, are part of the reason the safety engineers have to wear a hat in winter now.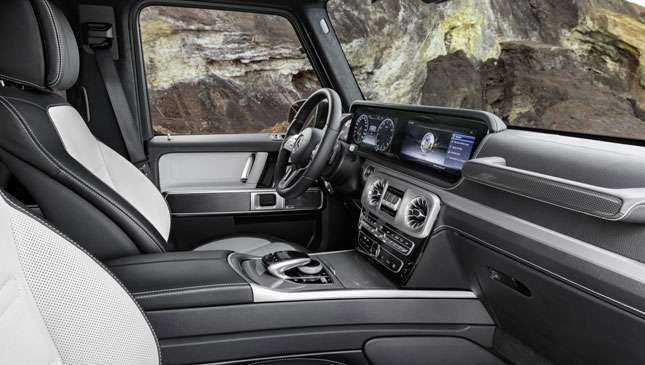 3) Much S-Class tech has been integrated into the G. One of the irrefutable laws of cars is thus: Technology that starts off in a Mercedes S-Class winds its way to all other cars by the time that S gets replaced. The G-Class has been waiting a long old time to join the semi-autonomous ranks, but it's been treated, at last, to some of Mercedes' more sophisticated auto-butler systems. There's radar cruise and lane assist—that's why Mercedes has borrowed the new S-Class's steering wheel with the relevant auto-pilot functions on the spokes.
Then there's the fragrance ionizer. The optional flush-fitted screens for instruments and infotainment. Even the climate control buttons feel S-Class inspired, instead of the shoddier old dials.
Seats, meanwhile, are heated, cooled, electrically motorized chairs from an E-Class, actually, but they get bespoke mounts and different bolsters so they're easier to jump up into, but still clamp your torso if you're ambitious with an off-roading jaunt.
Over 300,000 Gs have been made to date. It's had record sales years in the 2016 and 2017, most likely, and over 80% of all Gs ever made are allegedly still on the road today. This refurb is about future-proofing it for the next 300,000.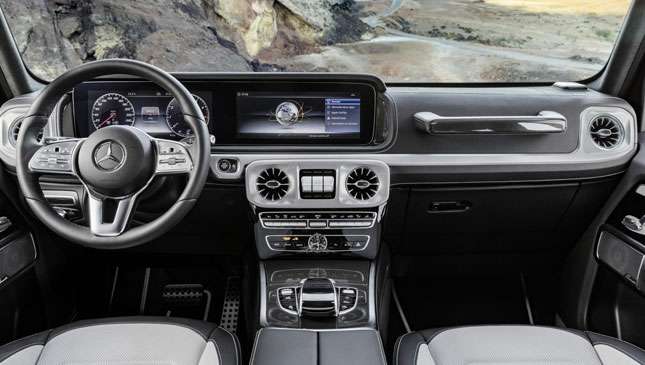 4) The dash is designed to echo the iconic styling. Notice that sweep of dash panel that runs from the outermost air vents down and horizontally across the G-Class's fascia? That's supposed to evoke the G-Class's square-jawed face and round headlights.
There's real metal everywhere—window switches, ornate speakers, door handles, and of course the classic diff-lock buttons that present themselves front and center on the dash. Terribly incongruous, but kinda utilitarian cool all the same.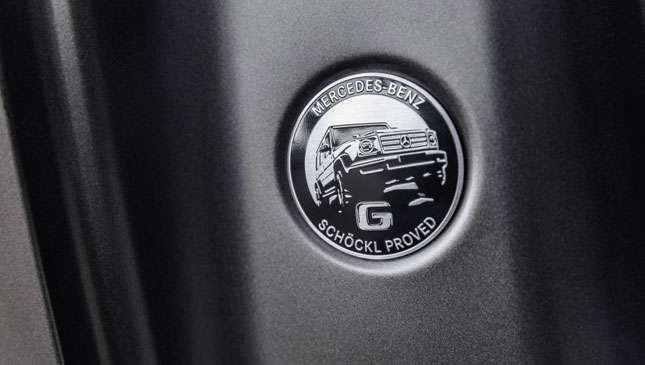 5) There'll be more bespoke options. Gunnar tells a story of how fastidious G-Class enthusiasts can be. "An owner came to us and said 'I want my car to have an olive tree dashboard. We said 'okay'. But then he said 'No no, I want the wood from my olive tree. On my ranch." So Mercedes sent a team to Italy, cut down the tree (which was entirely the wrong shape and grain for immortality in a German 4x4), shaped and seasoned the wood and did exactly as the customer asked.
The new G, being an artisan, niche sort of vehicle, will up that trend. Mercedes' Designo division will handle the requests for odd leather and trim, and the plaques and paint you may choose to spec.
And what about say, portal axles? A bigger engine? Six wheels?
"Never say never", says Gunnar optimistically. "We are just at the start of the story for the new G-Class. Who knows what our customers may request. But just look at what we achieved with the last car, with 6x6, Squared, and Maybach. The possibilities are out there."
NOTE: This article first appeared on TopGear.com. Minor edits have been made.
Recommended Videos