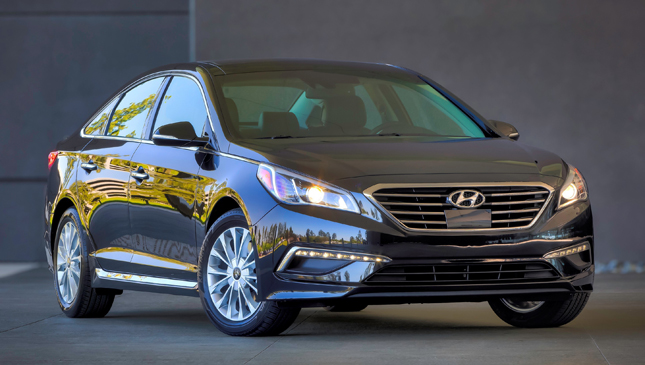 When the previous sixth-generation Hyundai Sonata was launched, it was the midsize car everybody was talking about: People considered it to be a game-changer in its segment. It was a giant leap forward in terms of styling and refinement over the previous models. Hyundai made full use of its then-new "Fluidic Sculpture" design language, and the result was this sleek, premium-looking sedan that made people who had never before considered the brand, walk into a Hyundai dealership.
The question now is: Does the new Sonata have the same magic as that last model?
The new model wears a more mature and toned-down design that Hyundai has christened "Fluidic Sculpture 2.0." According to Hyundai, the current look "is a confident evolution of the original fluidic sculpture design language that perfectly expresses the Sonata's premium look and excellent value." When the new model was developed, Hyundai felt that the Sonata had already established itself as a midsize sedan and no longer needed attention-grabbing styling. As it turns out, this wasn't quite the case. And some consumers interpreted this in a different way.
Here is what Hyundai Motor America CEO Dave Zuchowski had to say about the new Sonata during an interview with WardsAuto at the 2015 North American International Auto Show: "It's a very handsome vehicle, [but] it's not as distinctive as the vehicle [it followed]. If we're priced comparably, and we appear comparable, it's always difficult to win that battle with those more well-established, well-entrenched [models]." He also shared that that the new model is selling well to those loyal to the brand, but it's not attracting the conquest buyers the previous model did.
Continue reading below ↓
Recommended Videos
And now, Hyundai has a plan to fix this.
According to WardsAuto, expect the mid-cycle refresh to be out not earlier than the 2017 model year. This means it could make its debut as early as next year. It's still too early to tell how it will look like or how extensive the changes will be, but we can expect Hyundai to inject more style into it in a bid to draw in the conquest buyers it failed to attract. Will we see the refreshed model in our market? There's a big possibility we will, since the US-market Hyundais usually look similar to the export-market models we get here, save for some minor trim changes.
What do you guys think of the 2015 Sonata? Do you agree that it needs more distinct styling?