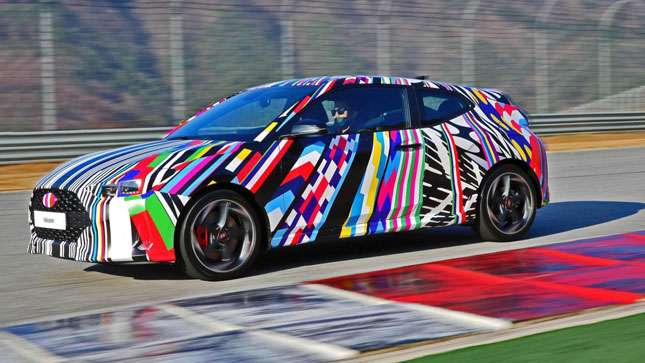 This, believe it or not, is the new Hyundai Veloster. A car that Top Gear has an unashamed soft spot for, because despite being a bit… limp to drive, it looked mad, had lopsided doors and most important of all, showed there was a creative streak lurking behind the worthy crossovers at Hyundai.
Rather than hiding the styling of the new 2018 Veloster under an ugly camouflage wrap, Hyundai's chosen the opposite tactic: MAXIMUM color. The retina-assaulting patterns are part-BMW art car, part-accident in a barcode factory, but are we the only ones brave enough to think they ought to appear on Hyundai's paint options list?
Continue reading below ↓
Recommended Videos
Anyway, the new Veloster. Set to retain its wonky bodyshell (one door on the driver's side, like a coupe, but two doors on the passenger's side, like your grandma's hatchback), the Veloster Mk2 shares its platform with the current i30. Or Elantra as it's known in most markets.
The really good news is that very platform has already served as the basis for a fabulous hot hatchback. Hyundai's first N Division performance car, the i30 N, is a sensationally fun to drive, well-priced and generally likeable hot hatch, as TG found out when we thrashed one across Europe, then gave it a second test on Britain's gnarly B-roads. It passed with, er, flying colors.
The new Veloster has already been spied testing with the 271hp 'N' mechanicals in South Korea, emitting fruity parps from its exhaust and wearing purposeful alloys over beefed-up brakes. Just as Audi borrows the VW Golf GTI's oily bits and slots them in the lower, lighter Audi TT, the i30 N could serve as the springboard for an even more focused, stylish-looking Hyundai coupe-hatch thing. With silly doors.
Hyundai, you've proved you can make fun-to-drive cars. You're trying to establish 'N' as a force in the hot hatch shark tank. And having an extra door on one side is still a bonkers USP. Please sell this car in every market you're in.
And don't spare the rainbow stickers…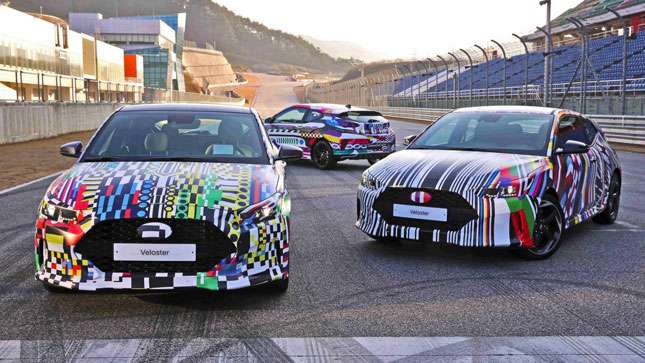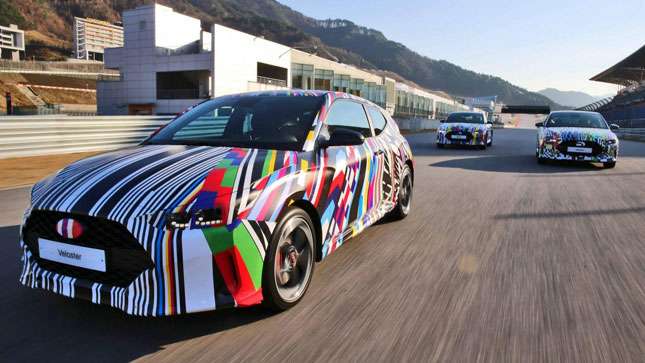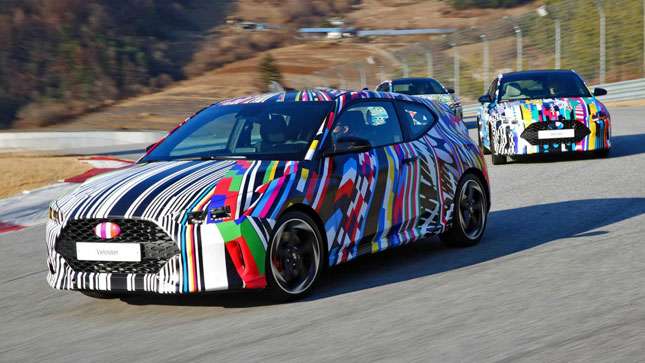 NOTE: This article first appeared on TopGear.com. Minor edits have been made.