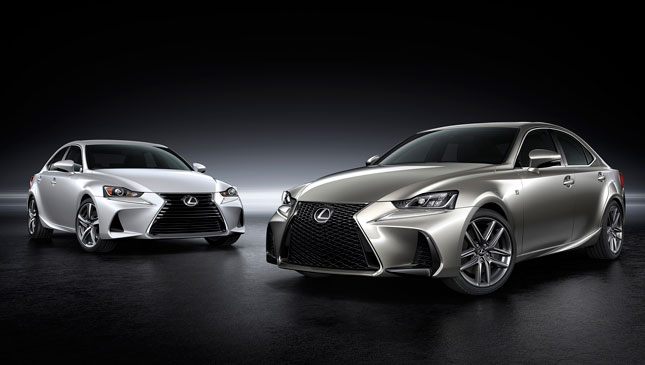 For those who own the current Lexus IS, the good news is that the refresh is minimal overall, so your premium compact sedan won't feel too outdated. The bad news is that the bits Lexus did change are kinda radical, so better avoid parking your IS next to the face-lifted one if and when it arrives here.
Debuting at the Beijing Motor Show, the new IS has a prominent new bumper with massive air intakes and redesigned headlights. Everything from the A-pillar backward looks the same, but the visual impact of the bumper rejuvenates the three-year-old IS.
Also, according to the press release, "the sleeker profile of the IS, together with the enhanced character line that runs down the side of the car, makes the new IS seem as if it's in constant motion even when sitting still." Kids, this is the oldest cliché in motoring journalism. If you encounter this while perusing an automotive article, you're reading the work of a lazy writer.
The new IS doesn't need outdated words to convey how exciting it is. The F Sport variant's spindle grille has a three-dimensional mesh pattern, with black metallic coating that incorporates functional brake ducts. The taillights have also been revamped, with triple-layered L-shaped LEDs. The exhaust tips are now rectangular and chrome-tipped to give off a hint of menace.
The cabin also gets noteworthy upgrades. The most obvious is the multimedia display screen: It grows from seven to 10.3 inches, and has a higher resolution to better enjoy the entertainment features. Subtle but interesting tweaks include new stitching on top of the gauges, new cupholders, and a larger leather-wrapped palm rest.
The powertrains will remain unchanged. These are the 2.0-liter turbo, the 3.5-liter V6, and the 2.5-liter hybrid. Our market only gets the V6, and while this engine is marvelous, we're curious about the turbo in the IS body.
Wrapping up the improvements to the IS is the Lexus Safety System+. This has a combination of a pre-collision system, lane-departure warning with steering assist, automatic high beam and active cruise control.
The refreshed IS is still mostly the same compact Lexus we've admired since its launch, but now with welcome changes that make us long for it even more.