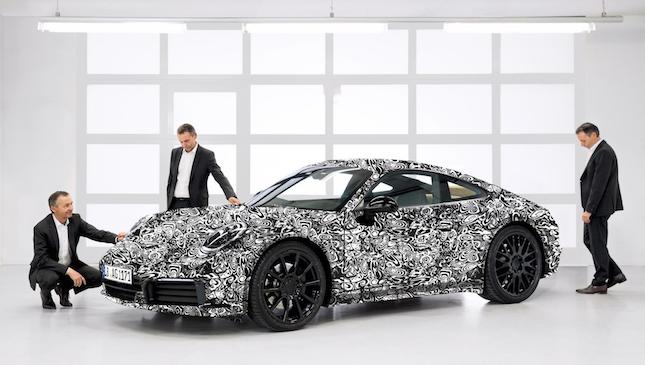 So this is our first official look at the '992' generation Porsche 911. And who'd have thought–it's the same shape as the 991, 997, 996, 993 and, well, pretty much every 911 from the last 70 years. Such is progress.
Odds are we'll see it minus psychedelic camouflage before the end of the year–possibly at September's Paris Motor Show –but for now this one angle is all we get. Porsche hasn't even given us any decent info to whet our insatiable appetites, beyond a few quotes from 911 model line director August Achleitner. A man so clever he's obviously perfected human cloning.
Continue reading below ↓
Recommended Videos
He promises the "911 will always have a steering wheel," and that it "will be one of the last cars to drive autonomously." He talks too of hybridization, that while "two years ago [he'd] have said no way. Today [he] wouldn't categorically rule it out," signalling we may see a hybrid 911 in the not-too-distant future.
He also promises the 992 will be the "best 911 of all time." Naturally. More as we have it.
NOTE: This article first appeared on TopGear.com. Minor edits have been made.