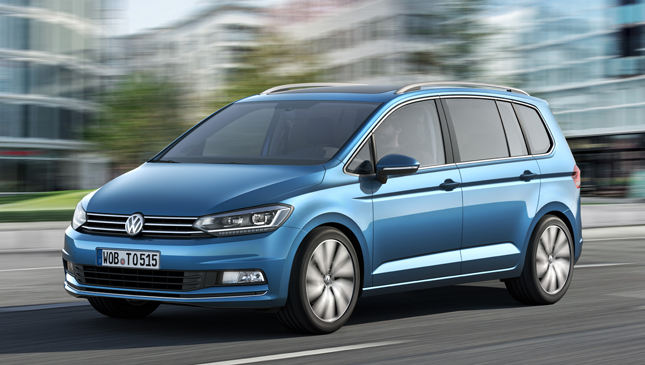 The Volkswagen Touran MPV got a publicity boost recently because it ferried Pope Francis last month. We've done long drives in VW's people-hauler, and it has a functional and no-frills approach to comfortable transportation. No wonder it was the ideal vehicle for the head of the Catholic church.
And now Volkswagen has announced a new version of Germany's most successful MPV. The next-generation Touran is longer, roomier, lighter and more economical than its predecessor.
The look has also been completely redesigned. According to Klaus Bischoff, head designer for the Volkswagen brand: "The Touran's new powerful and precise design picks up the reductive clarity of the previous model. We refined the design concept, reinventing it in places to give it a sharper look while retaining a strong underlying continuity. What emerges is an original with a much enhanced light and sporty look thanks to the long side windows and precise lines."
Of course, being an MPV, it's what's inside that counts. The Touran has a newly developed fold-flat seating system, available in five- or seven-seater configuration. The second-row seats have been designed to merge evenly with the luggage compartment floor. But even with five people on-board, this MPV has 1,040L of cargo space when loaded up to roof height.
Continue reading below ↓
Recommended Videos
To make sure passengers and their luggage reach their destination safely, the Touran has a crash-optimized body that uses high-strength steel. Other safety features are nine airbags and assistance systems like automatic post-collision braking system, adaptive cruise control, front assist with city emergency braking, pre-crash proactive occupant protection, side assist with rear traffic alert, and an MPV-first trailer assist.
Convenience functions are also included, like electric hatch open/close mechanism, foot-activated hatch opening function, driving profile selection, and LED headlights. With the latter, there's an option for a dynamic cornering function and LED daytime running lights.
For entertainment during trips, passengers will be able to use myriad connectivity options with the Touran. This VW uses both Apple CarPlay and Android Auto, as well as a new industry standard called MirrorLink, to connect to the majority of smartphones on the market today. Once plugged in, Android or Apple devices can display and control content on the Touran's multimedia touchscreen.
The launch of this new Volkswagen is slated for September in European markets, with no less than six engine variants--all four-cylinder turbocharged models--to be made available. There will be three gasoline engines: a 1.2-liter TSI (109hp), a 1.4-liter TSI (148hp) and a 1.8-liter TSI (177hp). And also three diesel powerplants: a 1.6-liter TDI (109hp), a 2.0-liter TDI (148hp) and the most powerful Touran mill, a 2.0-liter TDI (188hp).
The oil burners are clearly the way to go. The smallest diesel engine is capable of yielding 24.39km/L.
Local VW distributor Automobile Central Enterprise hasn't given word on when the new Touran will arrive here. We just hope we don't have to wait until the Pope returns.