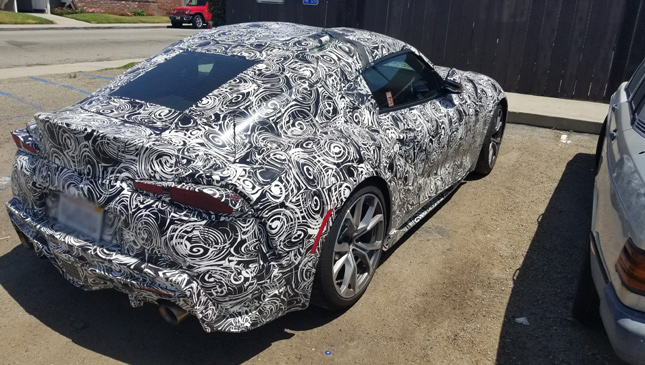 For the past four years, Toyota's been teasing us with rumors and trickles of information about its upcoming fifth-generation Supra. Yes, the one it's been developing in partnership with BMW.
Earlier this year, the Japanese carmaker presented the GR Supra Racing Concept at the Geneva International Motor Show. That is the race-spec version of the car. However, it was difficult to make out what the street car would look like underneath all those wings and add-on aero panels.
The other day a friend of mine, Dr. Gil Colmenar (transplanted Pinoy from Imus, Cavite) in Oxnard, California, was on his way to work and when he saw this vehicle in his very own parking spot. He didn't know what it was but he figured it was a test car of some sort because of the camera camouflage wrap and add-on panels it was wearing. He immediately snapped some pictures and sent them to our small online barkada of car enthusiasts.
Continue reading below ↓
Recommended Videos
We knew right away that it was the upcoming Toyota Supra undergoing testing. Gil checked out the car and he said it was loaded with test equipment. He chatted with the test driver who apparently stopped at the location to see if there were any places there to get a haircut.
Oxnard is about an hour north of Los Angeles and is near the Pacific Coast Highway, better known as Highway 1 in California. It is an ideal area for testing sports cars because the roads and views around it are absolutely beautiful.
The last time a Supra was produced by Toyota was more than a decade ago, and die-hard fans of the car are eagerly waiting for it to come out into the market. Details about the vehicle come in trickles. But despite the secrecy and little information around the project we do know a few things about the it:
1) The platform of the all-new Supra will be shared with the upcoming BMW Z4.
2) It is expected to have a turbocharged six-cylinder engine with around 350hp.
3) The design will be loosely patterned after the FT-1 concept.
4) It will be rear-wheel-drive only.
5) It will be built in Austria at the Magna Steyr factory, the same factory that builds the Mercedes-Benz Gelandewagen.
6) It will debut at the 2019 Detroit Auto Show in January.
Are you as excited as we are?