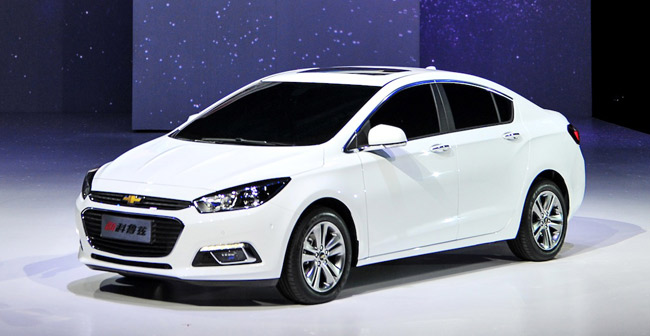 The 2015 Chevrolet Cruze unveiled at the New York Auto Show last week was just a refresh of the current model. Note that this is the first refresh of the current-generation Cruze in the US. Just to show you how important the Chinese market is, Chevrolet has unveiled the all-new Cruze at the Beijing Motor Show.
While the styling of the current Cruze is rather conservative, Chevrolet is going for a sleeker, more dynamic look for the all-new model. It has a longer roofline to give it a roomy interior; this also helps give the car a sportier profile. The wheels have been pushed toward the corners, and the front and rear overhangs have been reduced. The front-end design is influenced by the 2012 Chevrolet Tru 140S concept, while the sculpted body sides seem to have been inspired by the current full-size Impala.
Two engines will be offered to the Chinese market: a naturally aspirated 1.5-liter engine and a 1.4-liter direct-injected turbocharged powerplant. Three transmissions will be made available: a DCG seven-speed dual-clutch transmission, which was co-developed by General Motors and Shanghai Automotive Industry Corporation; a six-speed manual transmission; and a six-speed automatic transmission.
As you read this, it's still not clear whether the next US or global-market Cruze will closely follow the styling of the Chinese-market model. A few months back, a prototype of the all-new Cruze was spotted in Europe carrying a more traditional Chevy grille that has its bow-tie logo on the bar that splits the upper and lower halves of the grille. Chances are the car's basic styling will be similar between markets with some cosmetic changes to cater to local tastes.
Continue reading below ↓
Recommended Videos
What do you think of the all-new Cruze? Do you think it looks better than the current model?