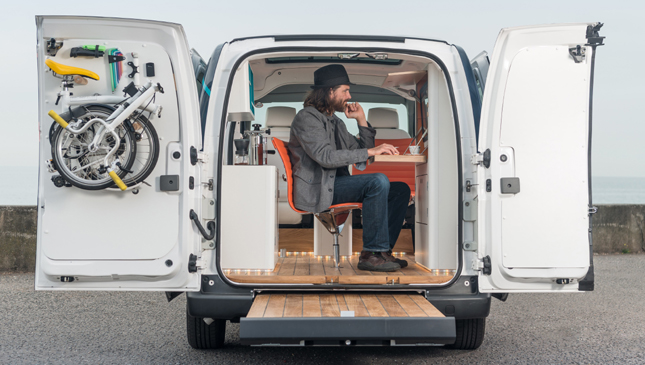 Is this the ultimate "on-the-go" vehicle? Nissan just unveiled an all-electric mobile office concept built around the company's zero-emission e-NV200 van. It's called the WORKSPACe, and man, does it look awesome or what.
The van was made in collaboration with UK-based workshop Studio Hardie. The vehicle comes equipped with just about every professional workplace necessity you can think of: wireless internet, an integrated fold-out desk, wireless charging, chrome and leather desk chairs, a touchscreen computer, a mini fridge and, of course, an expensive-ass coffee machine that pops out of the counter. Frankly, this is a workaholic's dream ride and then some.
Continue reading below ↓
Recommended Videos
All of the above was fitted into the e-NV200's spacious 4.2-cubic meter cargo bay. Designers didn't want the WORKSPACe to give off a typical workplace vibe, so they fitted the van with smartphone-controlled ambient LED lighting, a panoramic glass roof, a floating deck and fancy oak flooring. And yeah, that's a folding bike rack fitted on to the rear door.
Nissan says that there's a real chance the WORKSPACEmakes it to production on account of rising property prices and the increasing need for professionals to remain mobile. Nissan Europe director of electric vehicles Gareth Dunsmore thinks it's time for businesses to rethink sustainable transport too. "With hot-desking and remote working on the rise, it is not too big a leap to see a future where our vehicles will become connected, energy efficient, mobile workspaces and the e-NV200 WORKSPACe project could become more than just a concept," he said.
We hope he's right about that last bit. At the rate our traffic situation is going, we might as well get some work done on the road right? Well, either that, or we could use that fancy coffee machine to keep from falling asleep at the wheel.