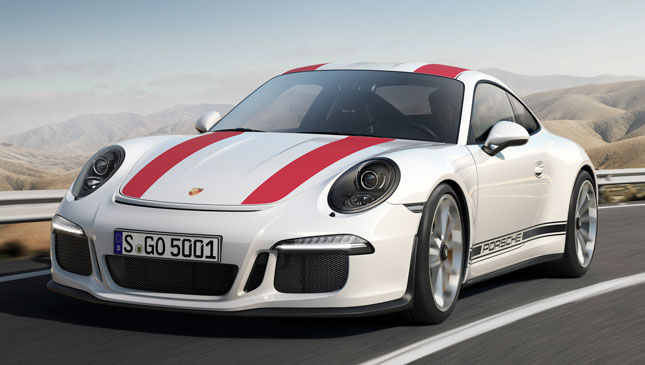 Porsche wants to remind us of the joy of driving with the newest member of the legendary 911 family: the 911 R. The 'R' in the moniker stands for Racing. The 911 R is fitted with a naturally aspirated 4.0-liter flat-six motor that it shares with the 911 GT3 RS. Mated to a six-speed manual gearbox (the only way to go), the 500hp/460Nm engine can blast the car to 100kph from a standstill in a scant 3.8 seconds, before powering it to a 323kph top speed.
Those who think that other cars can reach the century mark faster are missing the point. The lightweight 1,370kg 911 R is about handling prowess. The rear-axle steering, for example, promises stability, as well as precise handling and turn-in. Maximum traction is assured by a standard rear differential lock, while Porsche Ceramic Composite Brakes help wash off serious speed without drama. Of course, the Porsche Stability Management helps keep things shiny side-up, while a double-declutching feature will make drivers look like pros at the press of a button. Plus, the car's front axle can even be raised by 30mm via a lift kit to make it a more usable package.
But practicality isn't exactly part of the 911 R's reason for being. If you really must drive yours every day, then you'd better be prepared to make a few sacrifices. That dry weight was achieved by the use of a magnesium roof and a carbon-fiber hood and wings. More weight-shaving was made possible by replacing the rear windshield and glass area with lightweight yet strong plastic. And those who don't mind life without air-conditioning and an audio system will be happy here. (Air-conditioning and in-car entertainment are both optional features.)
Continue reading below ↓
Recommended Videos
Who needs good music when you have these: retractable rear spoiler from the Carrera; diffuser built specifically for the R models; the GT3's front and rear aprons; revised front lip; and red or green stripe that runs the length of the car's midsection (a homage to the original 911 R that saw action at Targa Florio in the '60s). Speaking of the '60s, the carbon driver seat is clad in the same Pepita tartan design from that era.
The steering wheel and the short-throw gear lever are specific to the R model, as are the carbon trim, the pull straps that serve as door handles, and the aluminum badge on the passenger side (which lets the world know which among the 991 units of this model you have).
And if you're one of those lucky enough to acquire this car, we tip our hat off to you. Not only do you own one of the most desirable automobiles on the planet, but you also know and appreciate the joys of driving.