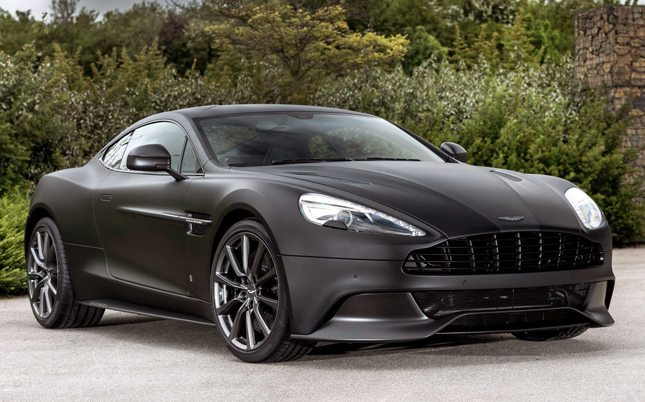 Admit it: Your choice of cars is mainly limited by your budget. Because if money were no object, you'd likely buy the most unique, most out-of-this-world automobile out there. You profess your brand loyalty to Honda or Subaru because your bank account has just enough digits to purchase a Honda or a Subaru. Otherwise, you'd be reciting your allegiance to Porsche or Ferrari on Sunday mornings.
To German businessman and avid car collector Markus Storck, money is definitely no object. You see, this dude happens to be the founder and big boss of Storck Bikes, said to be a "high-tech bicycle manufacturer." And as with many wealthy men who have more cash than they know what to do with, Storck gives in to outrageous material desires every now and then. Like this Aston Martin Vanquish you see here, for instance.
Mind you, this isn't an ordinary Vanquish--as if we could really call any Vanquish variant "ordinary." This car is so limited only seven units will be produced in this exact version. Bespoke, in other words. Or tailored to a discriminating customer's exact specifications. This was produced by Q by Aston Martin, the luxury British carmaker's personalization service tasked to satisfy the smallest of whims demanded by any client to whom money is no object. A client like Markus Storck.
ADVERTISEMENT - CONTINUE READING BELOW ↓
ADVERTISEMENT - CONTINUE READING BELOW ↓
Recommended Videos
The Vanquish in the photo is the very first unit to be built in this very exclusive bespoke series, and it will naturally go directly to Storck himself. The remaining six units to be put together, apparently, have been earmarked for "fellow sports car aficionados." Or men with whom Storck presumably rents a racetrack on weekends so they can clip the apex and blast through the straight as only gents to whom money is no object can.
To make this Vanquish feel incredibly distinct, Q by Aston Martin bestowed upon it a number of bespoke features that now inordinately pad the total price tag and bring it to a stratospheric level only buyers to whom money is no object can afford. These features include an exterior finish that boasts multiple layers of carbon fiber; diamond quilting for the seats; machined-carbon Aston Martin badges; 'One of Seven' logos adorning the head restraints; and gloss-black design elements.
ADVERTISEMENT - CONTINUE READING BELOW ↓
"I'm absolutely thrilled to see my vision for a series of bespoke Aston Martin Vanquish come to life like this," gushes Storck as quoted by Aston Martin.
If you were to study the list of customization bits done on the car, you'd think this was a complete waste of money, considering the modifications are largely cosmetic with no mention made about any performance upgrade. You'd feel cheated. You'd be convinced you had been monumentally shortchanged. But really, that's only because you're not someone to whom money is no object.